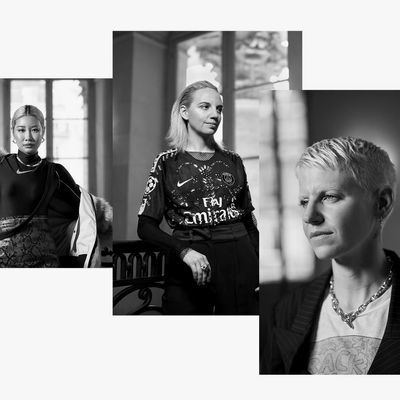 The Women's World Cup kicks off in France on June 7, but a lot has already happened in women's soccer this year. Back in March, 28 members of the United States team filed a gender discrimination lawsuit, citing pay disparity and alleging that their working conditions, medical care, and travel accommodations were all inadequate compared to those afforded the men's team (which, by the way, doesn't play or win as often.) A few days later, Nike announced that for the first time ever it would produce team uniforms made especially for a woman's body. And finally, on Monday, the sportswear brand revealed four different fan jersey collaborations, all designed by women.
Nike's WWC collaborators include Yoon Ahn of Ambush, Christelle Kocher of Koché, Erin Magee of MadeMe, and LVMH-backed designer Marine Serre. Each designer offered her own interpretation of the traditional soccer kit, with dresses, jackets, full bodysuits, and matching sports bras. The pieces will go on sale June 7 and be available through July 7.
Below, the designers explain the inspiration behind their pieces.
Ambush
"My Nike x AMBUSH® jersey is a unisex hybrid football jersey inspired by the Happi coat, a traditional Japanese straight-sleeved coat," explains designer Yoon Ahn. "I chose the Happi coat because, although we are celebrating the tournament and the incredible female players, I believe it is just as important for the fans, for everyone to have a universal piece to celebrate in."
Koché
According to Christelle Kocher, "The idea was to give the feeling of movement and positive energy. I created this dress by reconstructing the soccer jersey around the female body. The result is a dress that can be worn by a girl who plays, dances, or moves in the city."
MadeMe
"I wanted this jersey to be sport first, fashion second," says MadeMe's Erin Magee. "It's meant to celebrate the incredible, victorious history of the USWNT by drawing attention to the woman namesake of the iconic sportswear company itself: Nike, the Goddess of Victory."
Marine Serre
"The focus of my designs is always hybridity and adapting to daily life," says French designer Marine Serre. "It's important to create a purposeful line that makes a female feel good without compromising the style."