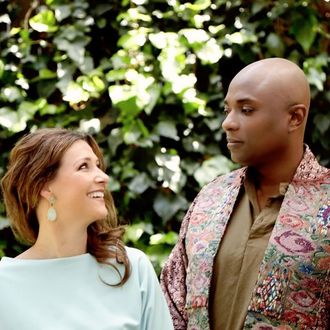 Princess Martha Louise of Norway and Durek Verrett.
Photo: princessmarthalouise/Instagram
If you Google "love quotes," you'll find endless phrases attributed to the greats like Jane Austen and, erm, Sean from Good Will Hunting, about the rarity of love, and how important it is to hold on tight once you find it. And that seems to be exactly what Princess Martha Louise of Norway is doing, as she recently shared on Instagram that she is dating a person she refers to as her "twin flame": An American shaman named Durek Verrett.
The princess, 47, went through what she called (at the time) a "painful" divorce from her husband of 15 years, Ari Behn, back in 2017. And now, as she professed on Instagram, it turns out she has found love again with Shaman Durek. "When you meet your twin flame, you know," she wrote, in part, on Instagram. "I have been lucky enough to have met mine. @shamandurek has changed my life, like he does with so many."
But who exactly is this shaman? Lucky for you, the Daily Mail appears to have been quite fascinated with him, so they did a deep dive. According to the tabloid, he is a self-described "spiritual guide and gifted healer" who claims he can reverse the aging process by accessing the "atoms" inside the body. He's also friends with Gwyneth Paltrow, and has been interviewed by Goop. And according to his website, the couple will be hosting a series of divinity workshops in Norway soon, which sounds romantic.
However, Princess Martha Louise apparently knew she might have to deal with some negativity about her new love, so she wrote on Instagram:
And to those of you who feel the need to criticize: Hold your horses. It is not up to you to choose for me or to judge me. I don't choose my man to satisfy any of you or the norms or boxes you have chosen in your mind for me to be in. I don't thrive there, nor do I exist in your illusion about me. I choose from love. And that's it.
A valid point. This life is long and hard, and we should all be so lucky to fall in love with a shaman.