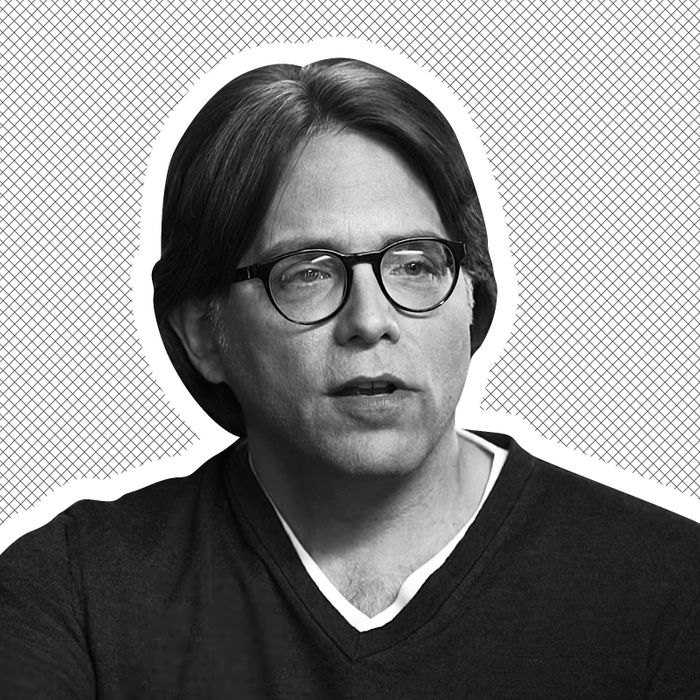 NXIVM founder Keith Raniere.
Photo: Keith Raniere Conversations/Youtube
In testimony against the founder of the alleged sex cult NXIVM, a former member recalled the horrifying tactics Keith Raniere used to "break" women within the organization, the New York Times reports.
As a former executive board member of NXIVM, Mark Vicente not only got a rare glimpse of group's inner workings, but also gained insight into Raniere's reasoning behind the organization's alleged criminal practices. During his two-day testimony against Raniere — who is currently facing seven criminal counts including sex trafficking and racketeering — Vicente spoke specifically about the NXIVM founder's obsession with controlling members' weight and appearances. Vicente said some women in NXIVM told him that they had adopted harsh diets, consuming as little as 300 calories a day, which left them appearing "skeletal," Rolling Stone reports.
Vicente said that he once approached Raniere about the "broken" appearance of actress Allison Mack, who admitted to recruiting and blackmailing sex slaves during a guilty plea in early April. According to Vicente, Raniere responded: "Well, I'm trying to break her."
"I began to see a lot of the women just become wraith thin," he said on Monday. "It began to look like their skin was translucent."
The former executive also opened up about a group within NXIVM, known as Society of Protectors Complete, which he says promoted "formalized misogyny." Women were teased about their clothing and forced to hold weights for long periods in the group, which he said left them looking like "shells of themselves."
Vicente's testimony comes less than a week after the start of Raniere's long-awaited trial, during which many former members are expected to take the stand. Before the trial began on May 7, all five of Raniere's co-defendants pleaded guilty to various charges, admitting to everything from recruiting women into the organization's alleged sex cult to using a deceased woman's credit card. And, just last week, in the first witness testimony against Raniere, a former member described in harrowing detail how she was manipulated into becoming one of his many "sex slaves."
Vicente remained involved in NXIVM for over a decade, but he told the jury that he feels "very ashamed" of his involvement.
"I believed with some reservation that the women wanted to feel stronger and this would help in some ways," he said. "[To] see that I was basically enforcing this kind of really dark, hateful misogyny was deeply upsetting to me."