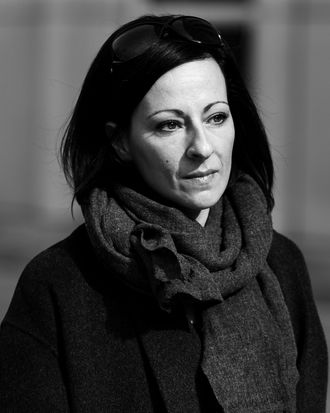 Lauren Salzman.
Photo: JUSTIN LANE/EPA-EFE/REX/Shutterstock
Women who were recruited into NXIVM's secret master-slave sorority were subjected to whippings, cold showers, and other forms of sexual torture, a high-ranking member of the alleged sex cult testified.
On Friday, Lauren Salzman took the stand in the sex-trafficking and racketeering trial of NXIVM founder Keith Raniere. Salzman has admitted to being a main member in the organization's alleged master-slave sorority, known as DOS; in early April, she pleaded guilty to charges of racketeering conspiracy. She also confessed to being one of eight "first-line masters" in DOS, meaning she reported directly to Raniere, and had 22 slaves that reported to her.
Salzman testified that she started a sexual relationship with Raniere as early as 2001. However, the Albany Times Union reports that she did not officially join DOS until 2016, and, once she got a glimpse of the inner-workings of the sorority, "things started to become scary" for her. On Monday, her second day on the stand, Salzman described the ways that Raniere kept the slaves subservient: Women would be forced to take cold showers or stand barefoot in the snow, she said, or even "locked in a cage," where masters were ordered to subject them to abuse that "really hurts." In one instance, per BuzzFeed News, Salzman recalled that woman had a Valium forced down her throat after having had a "psychotic break."
Salzman also spoke about submitting to the society's ritual of branding slaves with Raniere's initials, which she called "the most painful thing [she has] ever experienced."
And yet, Salzman seemed to remain fully committed to Raniere — until the day of his arrest in Mexico in March 2018. As Salzman testified on Tuesday, when Mexican federal officials raided the Puerto Vallarta villa where Raniere and Salzman were hiding out with other DOS members, Raniere attempted to hide in a walk-in closet, leaving her to face the authorities alone. "It never occurred to me that I would choose Keith, and Keith would choose Keith," she said in court.
Nearly a year later, Salzman expressed deep regret for her involvement in NXIVM as she pleaded guilty to the charges against her.
"I'm very sorry for my poor decision-making and decisions that result in the harm to others, and not the just victims in this case, but to hundreds of members of our community and their friends and families as well," she said.
This post has been updated.