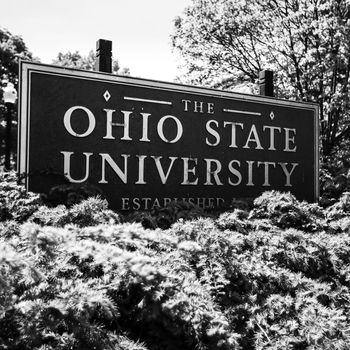 Ohio State University.
Photo: Angie Wang/AP/REX/Shutterstock
For years, Ohio State officials turned a blind eye while a former team doctor sexually abused more than 150 men, many of whom were varsity athletes, the New York Times reports.
Per a yearlong investigation conducted by Perkins Coie law firm, between the 1970s and 1990s, Ohio State doctor Richard H. Strauss targeted at least 177 male students, groping them and demanding they tell him about their sex lives. In particular, Strauss "routinely performed excessive — and seemingly medically unnecessary — genital exams," the investigation found, following more than 500 interviews with students and coaches. Furthermore, more than one student told investigators that Strauss's predatory behavior was an "open secret," which the report substantiated.
As early as 1979, the college's athletic departments were receiving reports that Strauss was acting inappropriately toward men, which the director of sports medicine wrote off as "unfounded rumors" as late as 1994. It wasn't until 1996 that a report ended up in the hands of a more senior officials; only then was Strauss removed from his post. His abuse, however, did not stop. After being suspended, he opened an off-campus clinic, where he continued to sexually abuse students; meanwhile, he was still a tenured faculty member. Even in 2005, when Strauss committed suicide, he was still a professor emeritus. (Ohio State, however, says it will revoke that title.)
Following the publication of the investigation on Friday, Ohio State president Michael V. Drake apologized to the community, calling the report's findings "shocking and painful to comprehend."
"On behalf of the university, we offer our profound regret and sincere apologies to each person who endured Strauss's abuse," he said. "Our institution's fundamental failure at the time to prevent this abuse was unacceptable — as were the inadequate efforts to thoroughly investigate complaints raised by students and staff members."