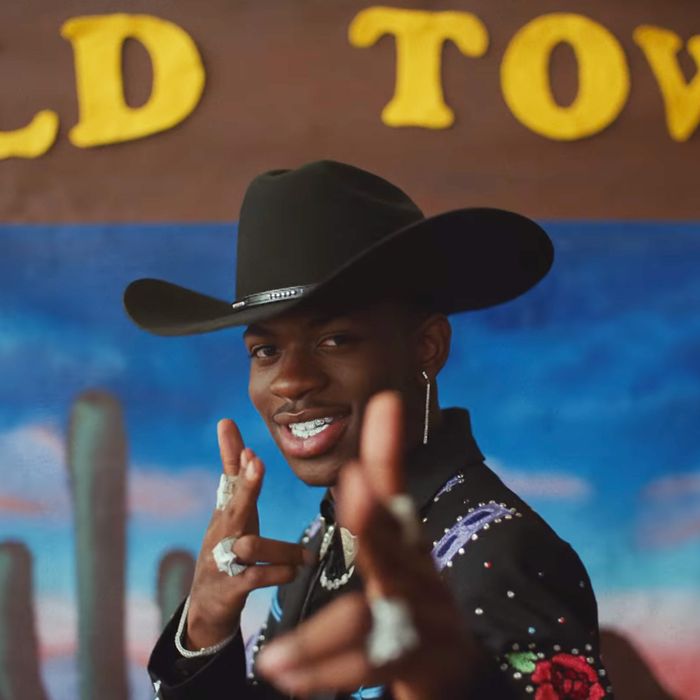 Ever since Montero Lamar Hill, also known as Lil Nas X, uploaded "Old Town Road" to the internet in December of 2018, the country ear-worm and its now-20-year-old proprietor have been unstoppable. In early 2018, the single went viral on TikTok as part of the social media app's "Yeehaw Challenge." From there, it landed on the Hot Country Songs chart at No. 19, before Billboard controversially removed the song in March for "not embrace[ing] enough elements of today's country music."
In April, the song got another boost when country music star Billy Ray Cyrus gave it his blessing. His remix with Lil Nas X quickly broke Drake's record for the most U.S. streams in one week, with 143 million hits. The single also still holds the number one spot on Billboard's Top 100 chart, beating out country music superstar, Taylor Swift.
On Friday, the duo finally saddled up for a music video, or more like "Old Town Road: The Movie." In it, they escape the threats of "unwelcoming" cowboys, taking their horses down more urban roads instead. There are cameos from Chris Rock, Vince Staples, Rico Nasty, and Diplo, who strums a washboard with a dumb-perfect grin on his face. The real star, though, is the traditional country getup Lil Nas X wears throughout, which was made by Jerry Lee Atwood of Union Western Clothing.
About halfway through the video Lil Nas X enters in a cowboy hat, cowboy boots, a blinged-out bolo tie, and an all-black suit covered in bedazzled Western motifs and fringe. Cyrus, meanwhile, wears a fringed pink shirt and matching pants — a flashy Western look, for sure, but notably not what some people might describe as a Nudie suit. The Nudie suit is specifically named after the famous rodeo tailor Nudie Cohn, a Kiev-born, California immigrant who made whimsical, rhinestone-covered suits with Western patches into his signature look in the '60s and '70s. His clients included everyone from Gram Parsons to Elvis Presley. Other notable tailors like Rodeo Ben and Nathan Turk also paved the way. Today, the look has been adopted by musical artists like Post Malone and Diplo, who Vogue recently declared the "World's Sexiest Cowboy."
While Lil Nas X brings his own panache to the Nudie suit, adding a diamond chain, and a dangling earring, for example, this is a serious look. It proves Lil Nas X knows exactly what he's doing, and where he belongs: The Old Town Freakin' Road.
This article has been updated.