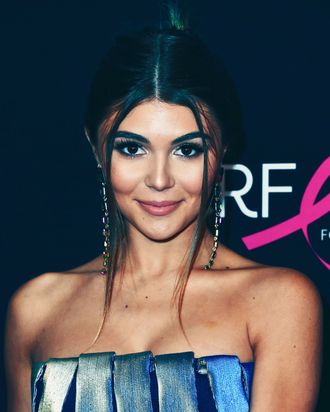 Olivia Jade Giannulli.
Photo: Frazer Harrison/Getty Images
On Sunday night, the Game of Thrones finale marked the close of eight years of wheelings, dealings, deceptions, gamesmanship, dragons, and elaborate political machinations. What drama, what mind, could possibly step in to fill the void it left behind in our collective conscious? According to Us Weekly, the answer is beauty vlogger and non-rower Olivia Jade Giannulli.
Sources say Giannulli is in the midst of orchestrating a massive, Little Finger–esque deception against the American people, by tricking them into thinking she actually wants to go back to college.
"Olivia Jade wants to go back to USC," a source told Us. "She didn't get officially kicked out and she is begging the school to let her back in."
But a second source told the tabloid, "She knows they won't let her in, so she's hoping this info gets out," adding, "She wants to come out looking like she's changed, learned life lessons and is growing as a person, so she for sure wants people to think she is interested in her education."
As you might recall, back in March, Olivia Jade's parents, Lori "Aunt Becky" Loughlin and Massimo "Designer of My Favorite Target T-Shirt" Giannulli were charged in a nationwide college admissions cheating scam, after they allegedly paid $500,000 to William "Rick" Singer to help get their two daughters into the University of Southern California as crew recruits, though neither rowed crew. Afterward, Olivia Jade was heavily criticized when fans resurfaced an vlog of hers in which she said, "I don't know how much of school I'm going to attend … I don't really care about school, as you guys all know." (She later apologized for her comment.)
In April, USC put both Olivia Jade and her sister Bella's academic statuses "on hold," leaving them in academic flux, with nothing to do but party their woes away.
Now, however, with this three-dimensional PR chess move, perhaps the public will forgive Olivia Jade and all of the sponsors who left her will come rushing back. Or these two sources don't know what they're talking about and she'll just continue partying and living her life, because an influencer lion does not concern herself with the opinion of sheep.