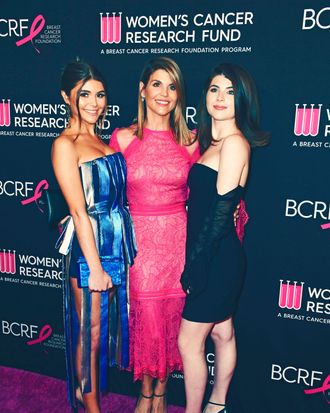 Olivia Jade, Lori Loughlin, and Isabella Rose.
Photo: Frazer Harrison/Getty Images
Amid reports that Full House actress Lori Loughlin has apparently been worried that her daughters — Isabella Rose and YouTube influencer Olivia Jade — might be pulled into the investigation into the widespread college admissions scandal, it turns out that they haven't been targeted by prosecutors — at least, so far, the Los Angeles Times reports.
Loughlin and her husband, fashion designer Mossimo Giannulli, recently pleaded not guilty to charges of conspiracy to commit fraud and conspiracy to commit money laundering. The charges stem from a scheme orchestrated by William "Rick" Singer, in which wealthy parents — including Felicity Huffman, who recently pleaded guilty to lesser charges than Loughlin and Giannulli face — have been accused of bribing and scheming their kids' ways into prestigious universities. The parents indicted in the scandal face prison time for the alleged crimes.
According to prosecutors, Loughlin and Giannulli paid Singer $500,000 to get their daughters accepted into the University of Southern California as crew-team recruits. It's been reported that Loughlin maintains that she thought what they were doing was aboveboard, though it's also been reported that she worries whether her daughters may face charges.
However, the Los Angeles Times reports that her daughters seem to be safe for now. While three children of parents who allegedly participated in the scheme have received letters from prosecutors, Olivia Jade and Isabella Rose are apparently not among those targeted in the probe. Furthermore, as the Times reports, just because the three kids have received targeted letters does not necessarily mean they will face charges.