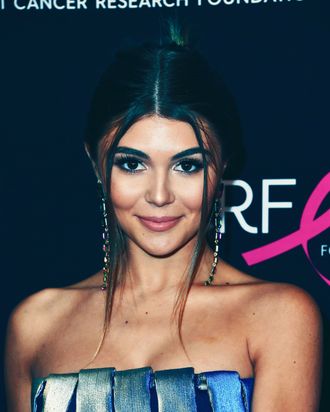 Olivia Jade.
Photo: Frazer Harrison/Getty Images
Olivia Jade Giannulli doesn't really do crew, but she does roll up to the club with one.
"Page Six" reported on Wednesday that Olivia Jade, who famously admitted last year in a vlog that she was mostly just looking forward to partying in college because "I don't really care about school, as you guys know," is still pursuing that passion. The 19-year-old was spotted leaving Bootsy Bellows in West Hollywood at around 2 a.m. wearing a black beanie, checkered pants, and a denim jacket. Actually, she was dressed rather like a college student.
Jade's parents, Full House actor Lori Loughlin and fashion designer Mossimo Giannulli, remain embroiled in legal issues over their alleged role in a college admissions scam that's resulted so far in 50 individuals being charged. Prosecutors claim Loughlin and Giannulli paid the alleged orchestrator of the admissions scandal, William "Rick" Singer, $500,000 to admit their two daughters into the University of Southern California as crew recruits. Loughlin and Giannulli have pleaded not guilty to several charges stemming from these allegations.
This isn't the first time Jade has hit the club since news of the scandal broke in March. Last month, Jade was carousing on a Thursday at the party of a YouTube personality. Shortly before that, she was also partying.
The jury is still out on whether Olivia Jade and her sister, Isabella Rose Giannulli, will be swept up in the so-called "Operation Varsity Blues" investigation as well. So far, they are reportedly not being seriously pursued by prosecutors. Just paparazzi.