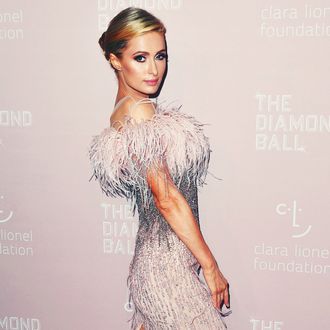 "Ode to Butts" by DJ Paris.
Photo: ANGELA WEISS/AFP/Getty Images
Excuse me, but renowned wedding DJ Paris Hilton has a new song coming out and, get this, it's all about butts. I could not have asked for more, and cannot wait to hear it.
According to TMZ, which considers Kim Kardashian West's cameo in the butt ballad's music video to be the top-line news here, Paris has christened her single "Best Friend's Ass." And sure, the hotel heiress did rudely compare her (I thought???) ex-best-friend's butt to "cottage cheese inside a trash bag" back in 2008, so maybe the casting choice comes down to an elaborate plea for forgiveness. Or maybe she penned this ode to butts as a belated apology for her cruel commentary. I would prefer to tell myself that version of the story (the ass anthem as an olive branch), only the video also includes an appearance by Drag Race's Derrick Barry, who — as far as I know — never became embroiled in the feud.
What else can I tell you about 2019's top contender for song of summer? Well, it features DJ/production duo Dimitri Vegas and Like Mike, and may or may not include the inspired lyric, "I can't stop looking at my best friend's ass." The video appears to involve a lot of snakes, plus Barry as an "I'm a Slave 4 U"–era Britney Spears. Past that, I have very little concrete information to offer at this time. I will choose to believe, though, that Paris drew inspiration for her butt song from the butt song in A Star Is Born (recall: Why do you look so good in those jeans? / Why'd you come around me with an ass like that?), which I think we can all agree should have won the Oscar.
Anyway, Paris told Time in 2017 that her next album would merge deep house with poppy, electronic influences, so we have that to look forward to. It would be, she said, "a whole new sound," something totally unlike her 2006 "Stars Are Blind" debut. Since then, she has released new music — in 2018, a single she reportedly recorded about a decade ago, pay no mind — but nothing explicitly about butts. Which is to say, we have waited long enough for Paris to patch this hole in her musical canon. [Bangs gavel.] Bring on the butt song!