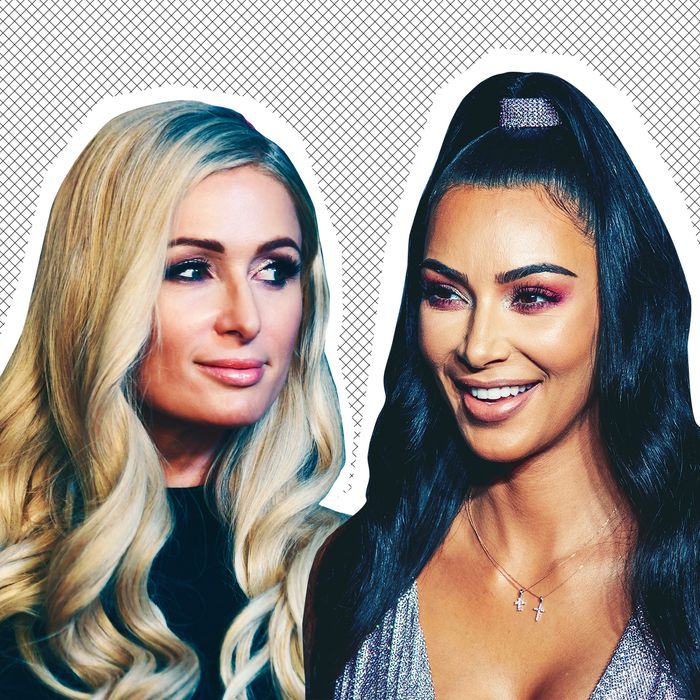 You may have assumed "Best Friend's Ass" would be about Kim Kardashian West's butt, as advertised, but no: It is about fuckboys.
Photo: Getty Images
One week ago today, I learned that DJ Paris (Hilton) would shortly bless us with what really sounded like it couldn't be anything other than a butt song. I mean the title is "Best Friend's Ass," for heck's sake: What else could this single be about, if not one specific ass — presumably Kim Kardashian West's, as she stars in the forthcoming music video — or the individual asses of select BFFs Paris has accrued over the years? I felt fairly safe forecasting a barrage of butt-centric lyrics to take us into, and maybe even carry us through, summer 2019.
That declaration was extremely premature, though, and I regret the error.
"Best Friend's Ass" dropped at midnight, shattering all my dreams before I'd even finished having them. Paris and her collaborators, producers Dimitri Vegas and Like Mike, seem to want us to call it B.F.A.: Maybe they hoped the acronym would seamlessly embed itself in internet culture à la B.D.E. (in which case, sorry but you have to let that process unfold naturally), or maybe it's just that "Best Friend's Ass" doesn't really roll off the tongue. Or! Maybe B.F.A. serves to distract us all from a hard truth: the butt song isn't even really about butts.
"Best Friend's Ass" traffics in typical club themes — coke, "poppin' bottles," getting money, things rich people like — with the eponymous ass recurring in the refrain. I suppose you could argue that, when Paris catalogues the vast inventory of nonsense this magic butt (Kim K's??) blocks from her radar, she is actually paying said rump a pretty high compliment. By that tenuous logic, you could count this as a sort of roundabout ode to butts. None of that would be able to save it from invasion by fuckboys, though. Yes, fuckboys really do feel like the central theme here, and I can think of no greater disappointment than that.
Exhibit A (select lyrics; please note that "ass" has been swapped out for a sproingy sort of chime in the cleaned-up version, further removing us from the promise of butts):
But all I see is fuckboys everywhere tryna make a pass

But I can't stop lookin' at my best friend's ass

Fu-fu-fuckboys everywhere tryna make a pass

But I can't stop lookin' at my best friend's ass




Fu-fu–

Fu-fu–

Fu-fu–

Fu-fu-fuckboys

Fucking rude




Fu-fu–

Fu-fu–

Fu-fu–

Alright, let's go
Now just imagine if every "fu-fu" sputter had been replaced by "bu-bu," as in butts. To me, that feels like a missed opportunity. The bridge could have just been butts: Bu-bu, bu-bu, bu-bu, buttsbuttsbutts … buttsbuttsbutts! Behold, a banger is born.
Granted, I am not a tastemaker, I do not know what goes into making a Top 40 hit, and I did not expect more than dance-pop key up with bendy synths. But fuckboys! I did not want or intend to spend any seconds thinking about fuckboys today, and now they've made a home — a fratty little bro den littered with drained vape cartridges and crushed cans and the detritus of a St. Patrick's Day bender they still haven't cleaned up — inside my brain-space because goddammit, this song is an earworm. It is haunting, in that it will rattle around your head on an endless thumping loop after you listen to it just once. In the course of writing this article, I have listened to it probably … three to five times?? There's no coming back from that! I will certainly never unhear "Best Friend's Ass." This is just my life now, sitting alone in my apartment and muttering disjointedly to myself about Jimmy Choos and [checks lyrics] the moon. Please, send help.