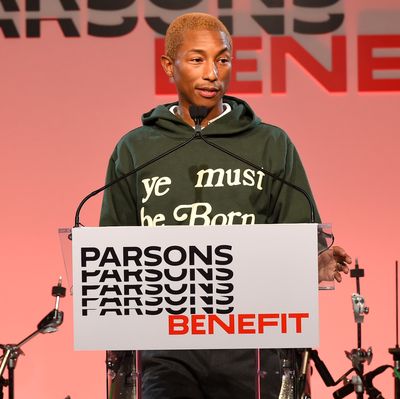 Photo: BEN GABBE/Getty Images for Parsons
On Monday night, The New School at Parsons hosted its 71st annual benefit gala, raising $3.6 million for student scholarships. The event had a strong focus on sustainable fashion this year, honoring industry disruptors such as Julie Wainwright of The RealReal, Katrina Lake of Stitch Fix, and Michael Preysman of Everlane. The final award of the night went to musical artist Pharell Williams for his commitment to empowering young talent. Past honorees include Solange, Rihanna, and Eileen Fisher.
"I personally can feel the design theta waves in the air," Williams said when he took the podium after being introduced by the artist KAWS, presumably referring to the collective talent in the room, which included graduates past and present, like Alexander Wang. "We have to protect these people who come up with these amazing designs," he continued. "[They] go on to make everyone's lives a little more colorful, a little more comfortable, and a little more convenient."
Williams has always had an eye for up-and-comers. He discovered Maggie Rogers while she was still a student at New York University, for example. Earlier that day, the 24-year-old rapper and ascending fashion icon Lil Uzi Vert was the first to show off Williams's new Chanel collaboration on Instagram.
When asked who he was keeping an eye on these days, Williams refused to get specific. He also wouldn't say more about his upcoming work. Instead, he offered some equally vague but eternally sound advice for aspiring designers: "Do you."