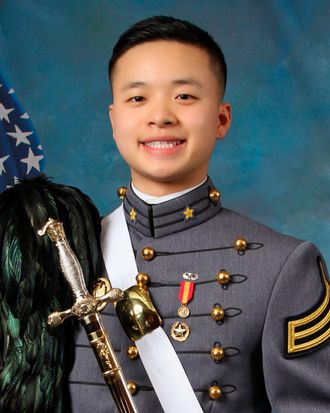 Peter Zhu.
Photo: U.S. Military Academy at West Point/AP
The tragic story of the untimely death of a 21-year-old cadet from the U.S. Military Academy at West Point has taken an unexpected turn. This week, a court granted his parents permission to use their late son's frozen sperm to produce a grandchild with a surrogate.
West Point cadet Peter Zhu died after a skiing accident on February 23, CNN reports. He had been found unresponsive on a ski slope on the grounds of the military academy in upstate New York. Zhu was then taken to a hospital, where doctors determined that his spinal cord was fractured; he was declared brain dead days later.
In March, Zhu's parents petitioned the court to allow the hospital to retrieve their late son's sperm. The retrieval petition was granted, and the sperm had been stored at a sperm bank ever since, while the court decided whether the parents had a right to use it. Per CNN, the Zhus explained in a late-March court teleconference that they wanted to "preserve the possibility of the use of Peter's sperm in the future in order to posthumously realize his dream of having children and continuing the family line."
This week, New York Supreme Court Judge John Colangelo ruled that the parents can use the sperm to produce a child. According to CNN, although Zhu did not have a living will, he had made statements about wanting to have "three kids" and was devoted to his family. This, the judge said, shows his "presumed intent" to one day have children.
However, the judge noted in his ruling that the parents may have "certain obstacles" as they move forward, such as medical professionals who are unwilling to complete the procedure. The concern seems to be valid, as CNN notes that the Ethics Commitee for the American Society for Reproductive Medicine has stated that surviving parents don't have ethical claims to their children's reproductive materials.