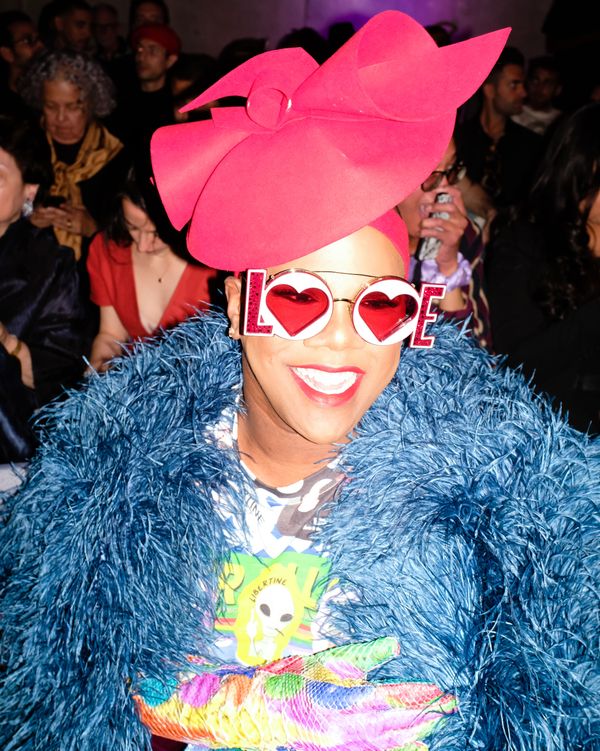 Miss Lawrence.
Photo: Andrea Barbiroli
Last Monday, celebrities and designers attended the Met Gala, where host Anna Wintour invited them to try their hand at camp, the dramatic, over-the-top sensibility rooted in the queer community and perfected over the decades by members of New York City's Ballroom scene. But on Saturday, another Vogue veteran, André Leon Talley, hosted his own gala: L'hommage, a benefit that honored the pioneers and stars of ballroom, the urban subculture that creates a safe space for expression, opportunity, and family for LGBTQ people of color. There, the expert practitioners of camp traded in the form in favor of elegance. The mantra for the evening, repeated by the emcee, was a Diana Vreeland quote: "Elegance is refusal."
When ballroom began in the early '80s, elegance in America was predominately defined by a straight, Caucasian society that rejected queer and trans people of color. So, when co-organizer Anthony Stropoli and the Bronx nonprofit organization FIERCE (Fabulous, Independent, Educated, Radicals for Community Empowerment) teamed with Talley for its first high-profile benefit, they invited acclaimed evening wear designer Ralph Rucci to create a collection that embodied the spirit of elegance that had members of that dismissed community at its center. Rucci created spectacular black and white couture pieces inspired by Ballroom pioneers Raquell Lord Balenciaga, Gisele Xtravaganza, Javier Madrid, Nigel Mugler, Coco Mitchell, Dominique Jackson, and Jose Xtravaganza. At a ball held in the historic Judson Memorial Church these icons walked the runway for guests including designer Marc Jacobs and talk show host Wendy Williams, and the evening's co-host, comedian Sandra Bernhard.
The joy and energy of the event, which raised $95,000 for FIERCE initiatives like its meal and internship programs, is difficult to translate (it was taken to another level when fashion legend Naomi Campell made a surprise runway performance) but to try, I spoke with attendees to get their take on elegance and the night celebrating beauty, fashion, drama, and activism.
Anthony Stropoli, L'hommage event organizer: This night developed out of a conversation between Ralph Rucci and myself. We both felt that LGBTQ kids of color are the most vulnerable group and want to do something to help them. Once we started brainstorming about Ballrooms long history of supporting queer youth it all kind of clicked. [My collaborators] Irving Smith and Sebastian Bermudez and I all know each other from working together at Barney's and we started a planning committee. Going Upstream organizer Kelly McGowan introduced us to the extraordinary work that FIERCE has been doing for almost 20 years. Ralph brought in André and he had recently been in Africa with Naomi, When he told her about FIERCE's work she wanted to be involved. For me the best part of the night was seeing the unbelievable looks on the kids faces when she surprised everyone on the runway.
André Leon Talley, ball judge: "Elegance is refusal," [as Diana Vreeland once said] to me means you adhere to your own codes. Like beautiful animals: gazelles or hummingbirds, you have refused to be part of the norms. You stand out because of your specialness, sometimes your exoticness. Your individuality becomes elegant by your conscious or unconscious differences to what is considered commonality. That's what the ballroom culture embodies for me and tonight we're paying homage to the historical significance of Ball culture.
I used to judge the balls in the '80s. I remember going at 2 in the afternoon and leaving at 2 in the morning. These people have survived, they have built their own community, and FIERCE supports that community. Tonight we're celebrating authenticity and creativity and I just think it's great to be a part of it.
Sandra Bernhard, comedian, Pose actress: This is crazy and fun like it was back in the day. Everything now is so over planned, thought out, Instagramed, and shoved into a million boxes. Back in the day when André and I used to go out, you just didn't know, the evening unfolded! Paris, Milan wherever you went the shit just happened because there was spontaneity to life that is sorely missing these days. Were bringing that energy here tonight to honor the ball culture and give it up to the kids FIERCE benefits. We're here to recapture that spark of light, love, and authenticity that New York City was always renowned for!
Ralph Rucci, designer: My close friend Anthony Stropoli had this idea to raise consciousness and money, so he asked me to dress the legends of the great houses for a show. I took a very monastic approach to the clothes but their individual styles allow clothes not to be seen as Cirque du Soleil. All the jewelry, I should mention, is from the great Elsa Peretti. Except this one ivory cuff from the estate of Diana Vreeland. It's good luck because she would have thought this show was the greatest thing since Charles James at the Electric Factory.
Raquell Lord Balenciaga, founding mother of the House of Balenciaga: Ralph Rucci asked me if I would return to the runway for him for the first time in over a decade. I said, "Why not!" This is an opportunity to bring all cultures, all diversities, all ethnic backgrounds to the stage and everybody just being creative, being who they are and it's amazing that it's for a good cause. FIERCE is investing in our community and pulls up our least fortunate kids. I think it's phenomenal that Ralph, Sandra, André, and Naomi are here lending their support along with all my Ballroom brothers and sisters.
Jose Xtravaganza, Father of House Xtravaganza: Getting together with Naomi Campbell on the runway — that's priceless! It means so much for her to be here, for her to be an ally to both the Ball community and the LGBTQ community and to see the looks on all the kids faces when she walked! Nights like tonight make it all worth it.
I loved collaborating with Ralph to see him work; it's really watching a master at work, what he does with one slice of the scissors is amazing. The art on my skirt was painted by Ralph and then printed. He created it for a piece that is currently in the Balenciaga show at the Victoria Albert Museum in London. This is the only other garment to use this fabric.  It's different shades of earth tones, beautifully fading into the other. I love it!
Lee Soulja, Executive director for NYC Black Pride: Ballroom has one of the longest histories of creating a safe space for LQBTQ people. Not enough people know that 2019 is actually the 150th anniversary of the first ball. Harlem Drag Balls were first documented in 1869 when the Hamilton Lodge hosted its first queer masquerade ball. It's important to honor our history and it's amazing to be in this space with everybody.
Skye Adrian, FIERCE alumni: When my parents found out about my sexuality, they kicked me out of their house, but I never let this deter me from my goals. In October 2016 I was introduced to FIERCE NYC and through them I learned to organize and navigate police interactions, and it was through FIERCE that I was able to obtain internships and eventually secure a job. It opened so many doors for me but the most important door was the one to my apartment and getting a lease with my name and my name only.