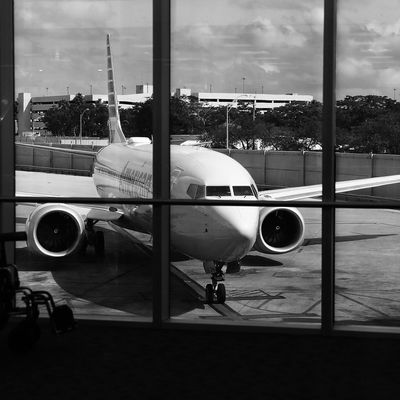 Photo: Joe Raedle/Getty Images
On Saturday, passengers of an American Airlines subsidiary received some, well, surprising news while waiting to board their flight to Charlotte, North Carolina, at Louisville International Airport in Kentucky. Their pilot had been arrested — for murder, CNN reports.
Pilot Christian Richard Martin, 51, was arrested for the November 2015 deaths of a couple — Calvin and Pamela Phillips — and their neighbor Edward Dansereau in Pembroke, Kentucky. According to CNN, Calvin Phillips was found shot to death at his home, while the bodies of his wife and Dansereau were found in Pamela Phillips's burned car in a corn field several miles away, Kentucky Attorney General Andy Beshear said.
Although Martin was indicted by a federal grand jury on Friday, he was not arrested until he was at the airport on Saturday morning. His indictment — which includes three counts of murder, one count of arson, one count of attempted burglary, and three counts of tampering with evidence — was reportedly sealed until he was taken into custody. Martin's former attorney told CNN that the pilot would have turned himself in had he known an arrest was imminent. He has reportedly been placed on an administrative suspension.
Passengers of Martin's scheduled flight were, understandably, shocked by the turn of events. Frances Wise told WDRB that her fellow passengers knew something was off while they were waiting to board: "It was very tense. I think it was very tense. You could tell the employees knew something was going on." Then, they were told the pilot had been arrested — though they didn't learn it was for murder until later in the day. Wise and her daughter made it to Charlotte, but they missed their connecting flight to St. Lucia.
"We're inconvenienced a lot," Wise said. "Like missed an entire day of a vacation that's been planned and saved for for an entire year." Well, this certainly puts our airport travel annoyances in perspective.