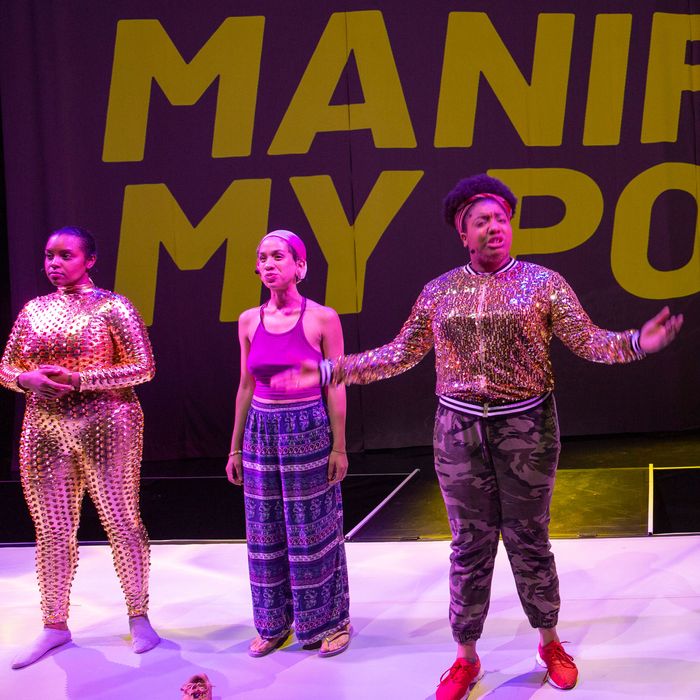 From left to right: Latashá, Rosangelica Lopez, Ashley August, Monique "Orisha Love" Letamendi, and Nathaniel Isiah Swanson.
Photo: Kate Glicksberg
The best thing about Hudson Yards is quite possibly The Shed, an arts center that opened last month and, last weekend, featured a moving performance about black women and their relationship to power. Located between Hudson Yards and the High Line, at 30th Street, the Shed aims to counteract the neighborhood's veneer as a billionaire's fantasy city. Under artistic director Alex Poots, the Shed is commissioning new work by emerging artists, hosting an open call show this summer (with $7,000–$15,000 grants for 52 artists), and offering arts programs for kids and young students. Admission costs $10 and is free to CUNY students and anyone under 18, and a selection of free tickets are set aside for low-income New Yorkers.
On Saturday and Sunday, the Shed hosted a performance by black artists and New York City high-school students called "Powerplay." The event featured music, spoken-word poetry, dance, moving images, and a collaboration with Carrie Mae Weems, who recorded videos that played onstage. Students prepared their work as part of Dis Obey, a free literary program that encourages young writers to explore activism and protest in their creative work.
All nine performers told their own stories about being black in the world today, ranging from a slam-poetry duet about abusive relationships to a satirical speech about white women who have appropriated the song "Wade in the Water" in internet videos. At the show's close, multimedia artist Latashá stripped down to a gold bodysuit and encouraged the audience to dance to a joyful funk song with musician Nona Hendryx, ending the evening on an optimistic and hopeful note.
"The performance is very raw and direct because many of our lives have been that way," Latashá, the show's director, explained to the Cut offstage. "We live on a planet that continuously shows a white perspective of living, and when it is black, it's stereotypical and deadens the true essence of who we really are … The fact that we are called marginalized is why we have to tell our stories, so we can take up more of the page."
She emphasized the importance of the event for the Shed's students in particular. "I want people to see that despite our radical circumstances, we always know, have, and give joy," she said. "It's important for all people to their stories."
Check out the Shed's current and upcoming exhibitions here.