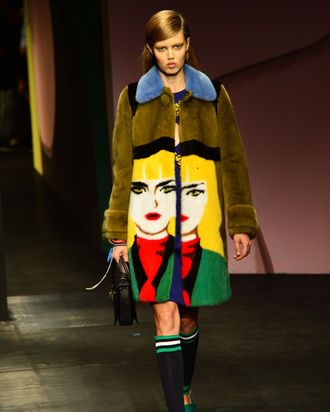 A fur coat from Prada F/W 2014.
Photo: Giuseppe Cacace/AFP/Getty Images
After a months-long discussion with the Fur Free Alliance, Prada is going fur-free. The Italian house joins the slew of brands who have decided to ditch fur in the last few years including Versace, Michael Kors, and Gucci.
Last September, the Fur Free Alliance launched an international campaign imploring Prada to go fur free. That was when Prada said, "okay, let's talk." Several months later, and voilà! As of spring summer 2020, Prada and Miu Miu will be fur-free. Miuccia Prada said in a statement, "The Prada Group is committed to innovation and social responsibility, and our fur-free policy … is an extension of that engagement." She also said it would focus on "innovative materials" to meet "the demand for ethical products." The Fur Free Alliance said that Prada was one of the, "fastest companies to go fur-free once positive dialogue began." As of now, no word on whether the brands will also ditch leather.
While it seems that PETA may have won the war on fur, some environmental activists are quick to point out that faux furs and vegan leathers are not always the more ecological choice. Most faux furs are made of polyester and shed microplastics. Whereas fur and leather are natural products, but involve the slaughter of animals. Regardless, Prada will be phasing out its fur products until the stock is sold.