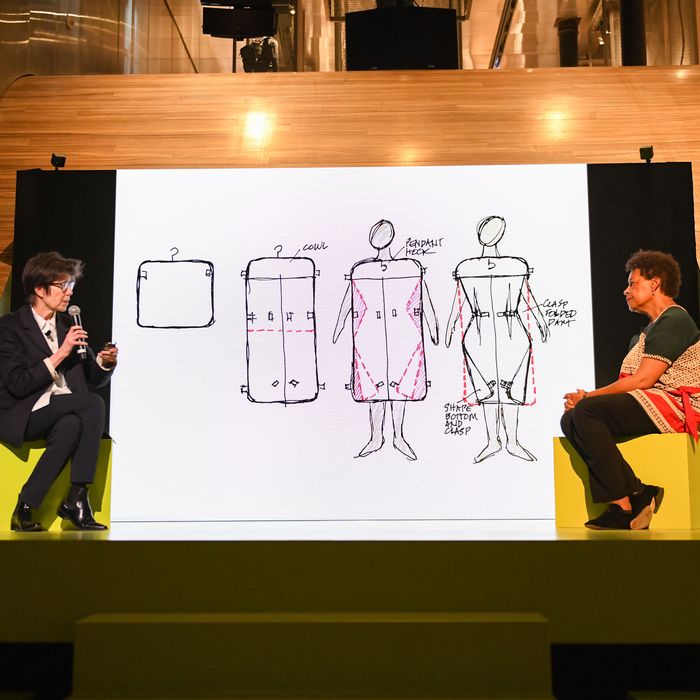 Architect Elizabeth Diller in conversation with artist Carrie Mae Weems.
Photo: Matteo Prandoni/BFA.com/Griffin Lipson/BFA.com
Over time, creative classes like "gallery girls" and "Dimes Square" artists have developed their own, stereotypical sense of style. You can pick them out of a crowd with their Rachel Comey pants or Maryam Nassir Zadeh sandals. By comparison, the look of an architect is a bit more elusive. Maybe it includes a structured white top from Cos or an Issey Miyake Bao Bao bag.
For spring/summer 2019, Prada just asked three female architects directly — Cini Boeri, Elizabeth Diller, and Kazuyo Sejima — to design whatever they would most like to wear using the brand's signature nylon fabric. Naturally, the results, sold under the "Prada Invites" umbrella, were far more versatile than any stereotype.
Cini Boeri, an Italian architect raised in Milan, created a bag that can be expanded or reduced according to need. Kazuyo Sejima, a Japanese architect living in Tokyo, designed a long bag called Daln, which features playful charms, and a curved one called Yooo, which can be worn around the neck. Finally, Elizabeth Diller, whose firm Diller Scofidio + Renfro just designed the Shed at Hudson Yards, conceived the Yoke bag and the Envelope dress, which walked the runway earlier this year and can be folded into a neat garment bag. (See above.)
To bring the collaboration to life, Prada hosted a conversation between Liz Diller and the artist Carrie Mae Weems on Wednesday night at its Soho store. Afterward, guests were also invited to put on Google 3-D viewers, which immersed them in a virtual-reality experience by the artist Anna Solomko.
This all preceded the brand's Resort 2020 show, which will take place Thursday night in New York City. Architects welcome.