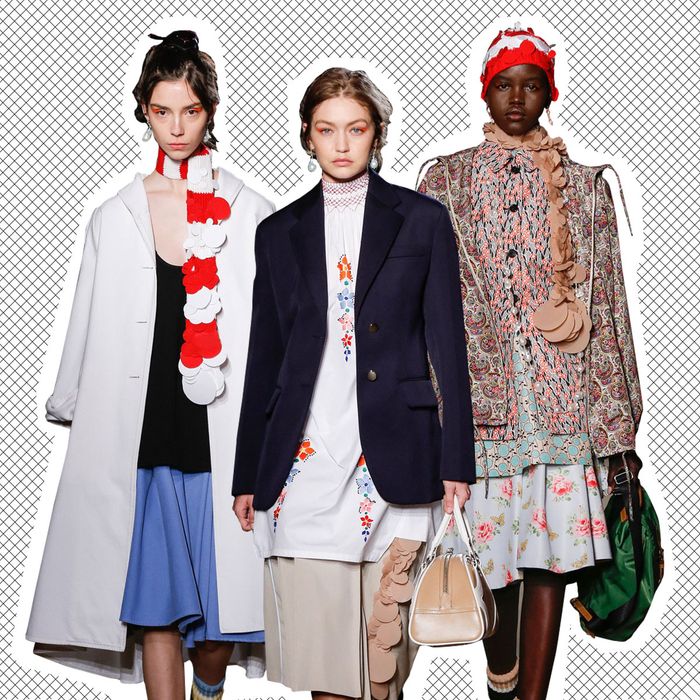 Prada Resort 2020.
Photo: Courtesy of Prada
The best romantic advice I've ever received was: You don't have to tell people everything. It's the same thing as not trying too hard. There's an art to it, and it leaves people wanting more.
This sort of restraint was Miuccia Prada's goal for her Resort 2020 collection, which she showed in New York City at the brand's headquarters on Thursday night.
"This show is all about simplicity — naïve, cotton, simple," she told WWD backstage afterward. "So, the opposite of a big deal."
It might seem strange for a designer to describe her work as "the opposite of a big deal," especially when celebrities like Uma Thurman, Elle Fanning, and Sofia Coppola are in the same room. But in the age of shockingly tiny handbags and meme-ready garments like jean diapers, simplicity is the most radical way to go.
"Simplicity is a provocation," Prada added. "Simplicity is rebellion."
We've perhaps forgotten that "simplicity" doesn't have to mean "boring." I'll admit that when I didn't see a stampede of weapon-like headbands on Thursday night, I was a little disappointed. The collection seemed too nice at first. Prada's sophisticated, "ugly pretty" style is her calling card. But, like all good fashion, the latest collection made me think: Maybe I don't need cat's-eye sunglasses to feel smart. Maybe I need a vacation from trying.

"Sometimes my husband says, 'You are too rich, too sophisticated, you should work in [more modest circumstances],'" Prada said in a way that somehow didn't read as arrogant. "So at the moment, I like that concept of fashion — you have too much sophistication and it's boring."
Think about it! Actually, wait. Don't. Just look at the clothes. The show opened with a double-breasted dark-navy coat with soft, sloped shoulders, which was styled with nothing else but Converse-like sneakers, thick ankle socks, a striped scarf made of sequins, and misshapen pearl earrings. Just one piece — the coat — plus four accessories, each with its own wonky personality. If you are discerning, that's all you really need to stand out.
The main takeaway from the collection, for me, was that layering is itself an act of tasteful intelligence — and that you don't need head-to-toe Prada to achieve it. Styling one loud print on top of another, as Prada did, requires a sort of cognitive dissonance. If you think too hard about what looks good together, you'll end up in full monochrome. This is why the best outfits are oftentimes the ones we throw on in a rush. My local bodega gets it.
That being said, you still have to put in some effort. You've got to be aware of color, proportion, and materials. Prada put a lot of thought into the balance of this collection. She layered long blazers over long shirts and skirts, and combined lace detailing with heavy suede — tricks I wouldn't innately think to do.
The closing look was perhaps the simplest: a white cotton peacoat over a black cotton tank top and a blue cotton skirt. For a nylon-lover like Prada, so much cotton was shocking to the point of playful, maybe even mischievous.
We often think of layering as the juxtaposition of contrasts, but layering the same simple idea over and over again? That's new.