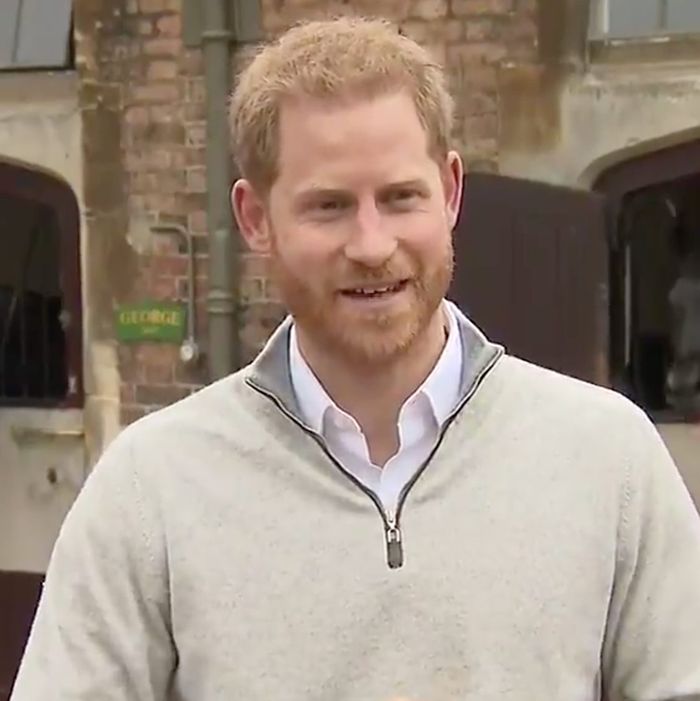 Prince Harry.
Photo: Sky News
Have you heard the wonderful news? Meghan Markle gave birth to her first royal baby with husband Prince Harry on Monday morning. It's a boy! How nice! Also extremely nice: Prince Harry, Duke of Sussex, stepped out to announce the birth to the press that day — while looking absolutely adorably thrilled (and standing in front of two horses).
"I'm very excited to announce that Meghan and myself had a baby boy earlier this morning. A very healthy boy," Prince Harry told the press, standing in front of a stable in Windsor, U.K., where his new home of Frogmore Cottage, on the Windsor Castle estate, is located.
The new dad continued, "Mother and baby are doing incredibly well. It's been the most amazing experience I could ever possibly imagine. How any woman does what they do is beyond comprehension."
Prince Harry added that the couple is "still thinking about names." He said, "The baby is a little bit overdue so we've had a little bit of time to think about it." He then reminded us all that he and Meghan will be appearing before the press in "about two days time" to give the world a first glimpse of Baby Boy Sussex. Thank goodness.
Looking positively elated, he said:
"I haven't been at many births; this was definitely my first birth but it's amazing. Absolutely incredible. I'm so incredibly proud of my wife. As any father and parent would ever say your baby is absolutely amazing but this little thing is absolutely to die for, and I'm just over the moon."
Excuse me while I sob in joy.