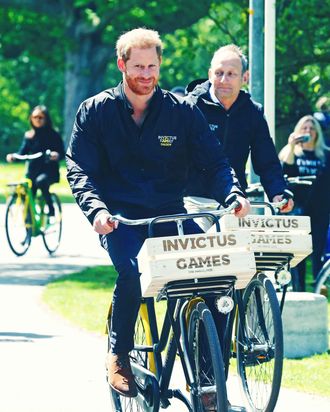 Prince Harry.
Photo: Chris Jackson/Getty Images
One news item that hasn't escaped my notice these past 72 hours is that Prince Harry likes being a dad; he's made that abundantly clear. "As any father and parent would ever say, your baby is absolutely amazing," he told reporters on Monday, "but this little thing is absolutely to die for, and I'm just over the moon." Three days later, he remains on brand and visibly brimming with joy everywhere he goes.
Now that his wife, Meghan Markle, has given birth to a tiny boy named Archie, he has free time again to attend to princely and dadly duties, such as go to the Invictus Games, a sporting event for wounded veterans and members of the military, which he founded in 2014 and is being hosted in the Hague. The planned trip to the Netherlands went off the rails due to baby Archie's long-awaited arrival, but on Thursday Harry made it in time to launch the competition. Not only that, but he showed up in a jacket with the words "I AM DADDY" stitched onto the logo, a gift from the event's organizers, custom dad wears.
In addition to the jacket, Harry received a baby onesie and a rattle. Everyone else who was going to get the prince a rattle, kindly throw it in the trash or set it on fire; he has one now.
Where once there was church and state, now there is only papa and daddy. So be it.