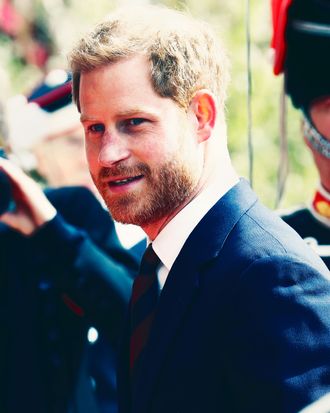 Prince Harry.
Photo: John Phillips/Getty Images
Buckingham Palace announced on Wednesday that Prince Harry would be visiting the Netherlands next week to kick off the official one-year countdown until the next Invictus Games ceremony.
Under other circumstances, this would be totally normal; royals go all over the place for events all the time. Beyond that, the Invictus Games — an international multi-sport event for armed-service members and veterans — has long been the Duke of Sussex's passion. But given that Prince Harry's pregnant wife Meghan Markle's due date for their first royal baby is reportedly around, erm, now, the announcement left some wondering: What?!?!!
In the Wednesday statement, per ITV's Chris Ship, Buckingham Palace announced that Prince Harry will be in Amsterdam and The Hague — where the 2020 Invictus Games will be held — next Wednesday and Thursday. The news, however, came as the entire world is sitting around waiting for info about Baby Sussex. Meghan had said that the baby was due late April, early May, and as it is now early May, the world seems to be getting a bit impatient. There are rumors that they baby has already arrived (which might explain Queen Elizabeth's recent Easter visit to the Sussex's new home at Frogmore Cottage); however, some royal reporters have been "assured" that the baby has yet to be born.
But what does Prince Harry's trip mean? Well, nothing, technically. It looks like if the baby has already been born, then he'll just be gone overnight. ITV has been told that the baby has not yet been born, however, and reports that if Meghan is in labor at the time of the trip — or if the baby had just been born — Prince Harry simply won't go.
So basically … who knows!