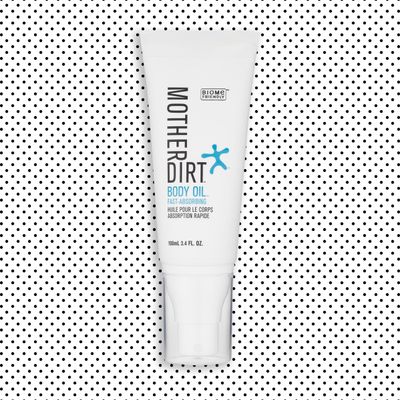 Photo: Courtesy of Mother Dirt
If you've swapped your antibacterial gels and wipes for products that embrace the good kinds of bacteria (hello, probiotics), then you're onto a trend in keeping our bodies clean, but not too clean. Leading the movement against overcleaning is a brand with an incredibly appropriate name: Mother Dirt. The pro-bacteria skincare brand offers products that help boost your "microbiome" — or the ecosystem of bacteria living in your skin — which can decrease how often you need to cleanse your skin. Tens of thousands of people have bought their products, which include the top seller AO+ Mist (a face and body spray that contains live bacteria) and a new body-care collection launching May 21.
To learn more about the science behind bacteria-based beauty and how to actually stop washing your face, we turned to Mother Dirt's president Jasmina Aganovic, a MIT chemical and biological engineering alum. She explained which bathroom-vanity products you can throw out, how to get on the bacteria bandwagon, and why this trend marks an important shift in public health. Get ready to pamper your microbiome like it's never been pampered before.
Why is soap "bad" for me? Should I give up showering?
Soap has a purpose and a use. However, like many things, we tend to overdo it without question. We think being squeaky-clean and killing 99 percent of bacteria is a good thing, when in fact, that is not the case. Too much cleansing can harm the skin's moisture barrier, as well as the ecosystem we now know to be the microbiome. The same pattern extends to showering. Showering is not bad, but it's worth questioning how dirty we actually get on a daily basis and whether our whole body actually needs to be lathered up.
How do I know if the products I'm already using are good or bad for my skin health? What ingredients should I look for on the label?
Avoid daily hygiene products that contain the word "antibacterial," unless you work in a hospital or are instructed to use them by a physician. Studies have indicated that antibacterial products might not be more effective than plain soap and water, and you don't really need them on a daily basis. Other easy ingredients to watch out for are sodium lauryl sulfate, SDS, and triclosan.
Mother Dirt's average user removes 2.5 products from their beauty routine. What are the products they usually remove? Why are they able to remove them?
Moisturizer and deodorant are the main ones removed. For others, it's conditioner or exfoliants.
What do the letters "AO" in your AO+ Mist stand for, and how does the science behind it work?
Ammonia-Oxidizing, which refers to the type of bacteria inside the mist (cultured from dirt). It consumes the ammonia in your sweat and produces beneficial byproducts as part of a natural process that once existed on our skin before we cleaned it away.
Sixty percent of your users say they're able to cut down on deodorant after using the AO+ Mist for four weeks. How does that scientifically work?
Body odor is actually caused by bacteria and not by sweat itself. By helping rebalance that ecosystem using the bacteria in the mist, we are shifting away from odor-causing bacteria and toward a more balanced ecosystem that does not generate odors.
Is it true that you no longer use deodorant yourself? What products do you use now?
Ha, yes! I rarely use deodorant. This sometimes changes if I go through a phase of eating a lot of onions. (Remember, the body is an ecosystem, and we are what we eat). I use all Mother Dirt products, but only add in an SPF and undereye concealer and mascara. My routine used to be much more elaborate, but I could never go back — and I don't need to!
When and how often should I use the mist? What's the best way to try it cold-turkey?
Every day. Preferably twice a day. You can go cold turkey, but you absolutely don't have to, to see benefits.
Why do I need to keep it in the refrigerator, and why is there an expiration date?
Because there is live bacteria inside every bottle — it's more like your kombucha than a typical skincare product that has a two-year shelf life because of the preservatives in it. Our mist expires after six months in the fridge.
If I try Mother Dirt, what other products will I still need?
This all depends on you. We have some people who just use the Mist, and others who have more built-out routines. The Body Line (launching May 21) was created as part of our goal to build out a biome-friendly set of basic daily essentials. While we don't want to force anyone into a routine, we do want to meet people where they are and create a set of easy swaps for the current basics in their bathrooms. Some of the early products we launched with, such as our cleanser and moisturizer, can continue to be multiuse for people. For others who are looking for more specific functionality and want to cover a larger surface area, our Body Line ends up being a more effective solution both in formula and cost.
To get a little more specific: Some of the most abrasive things on our skin microbiome are the surfactants in soaps that create lather. Our Body Wash uses select, calibrated surfactants to ensure a formula that is gentle to the delicate skin biome. The formula has a very low water content, encouraging only a pea-size amount to be used at a time. The Body Oil formula is the first product in our line that contains a scented essential oil (lemongrass), as well as a blend of other nurturing oils. It is a dry oil, perfect when you don't want residual greasiness or tackiness.
How do other Mother Dirt products besides the AO+ Mist spray work?
Besides the AO+ Mist, our other products don't contain live bacteria. Instead, they're formulated and screened to be friendly to the peacekeeper bacteria in the AO+ Mist. Our goal is to build out a line of basic daily essentials that can be easy swaps into your existing routine, but ones that keep the great results of your mist going. They each have very simple formulas (often 10 ingredients or less), and are unpreserved and plant-based.
What is the coolest aspect to you in terms of the science behind Mother Dirt?
It's a fundamentally different way to look at skincare or hygiene. It potentially explains why all other approaches might have gotten us to the state of skin issues we have now, and also presents a powerful new approach to creating more effective, less abrasive, and sustainable solutions.
How does Mother Dirt want to impact the skincare and public-health worlds at large?
We very much hope to use our products as a vehicle for conversation — one that we hope will start to recalibrate our relationship with the microbial world.
What does the name "Mother Dirt" represent to you?
Recognizing and reconnecting with the evolved brilliance of Mother Nature. She is thousands of years ahead of us with how beautifully she has designed biological systems.
This interview has been edited and condensed.
All images courtesy of Mother Dirt.
This is paid content produced for an advertiser by New York Stories. The editorial staff of The Cut did not play a role in its creation.