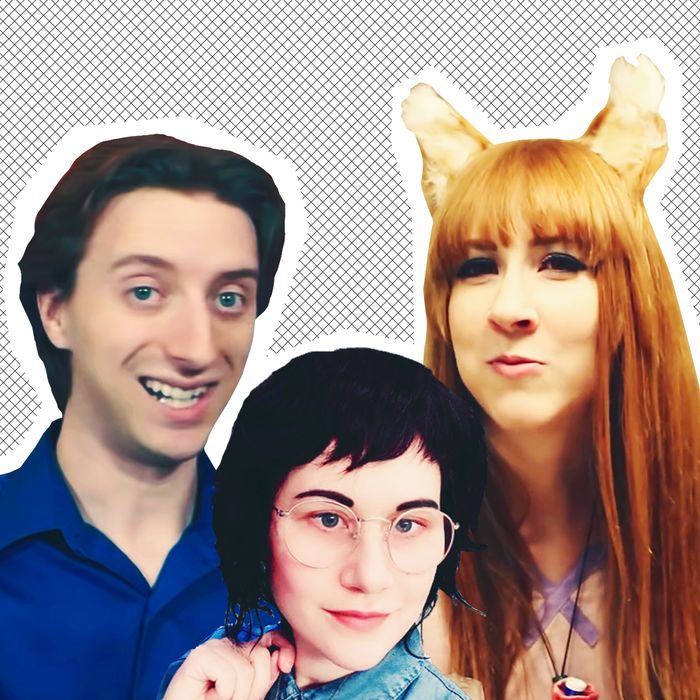 L to R: Jared Knabenbauer; Holly Conrad; Heidi O'Farrall.
Photo: Youtube/Twitter
Jared "ProJared" Knabenbauer, a famous YouTube gamer with over a million subscribers, is at the center of a saga unfolding in great, anatomically explicit detail in the bowels of Twitter dot com. First, his wife, designer and cosplayer Heidi O'Ferrall tweeted that Knabenbauer had cheated on her with another gamer, Holly Conrad, a revelation that led over 100,000 fans to unsubscribe from Knabenbauer's popular YouTube channel. Then, Knabenbauer was accused of soliciting nudes from underage fans.
Let's break this down.
The Reveal
It started on Wednesday night, when O'Ferrall tweeted that Knabenbauer had cheated on her with another gamer, Holly Conrad, also known as CommanderHolly, with whom she had previously been close ("Call-out post: @HollyConrad is an excellent friend and human being. I could never have made the squid head without her," O'Farrell tweeted in 2017). She also said that he had gaslit her about the affair, and been emotionally abusive.
O'Ferrall posted her thread half an hour after Knabenbauer posted his own statement on their separation on his Twitter, a statement O'Ferrall couldn't see because he had blocked her.
"My wife Heidi and I have filed for divorce," he wrote, adding, "During this time you may see a lot of rumors, speculation and gossip going around. I ask that you make your own observations and come to your own conclusions."
He also said that the couple reached the decision after seeking both individual and couples therapy, and that "Heidi's privacy, mental wellbeing and discretion has always been and will remain my highest priority through all this."
"His statement is nothing more than an attempt to silence me before I can reveal anything," O'Farrell went on to tweet. "I'm honestly shocked that he posted this today because it's so blatantly selfish. This isn't a mutual statement in any way. I did tell him that I wouldn't sign an NDA regarding his behavior. I've suffered enough to sell him my dignity too."
O'Farrell said she had found explicit messages and pictures Knabenbauer and Conrad exchanged, and that when she confronted her husband with the proof, he continued to deny the affair.
Meanwhile, a couple of hours after Knabenbauer posted his announcement, Conrad replied his tweet, writing "Im so sorry you're going through this. I'm here if you need me."
Conrad has since made her Twitter and Instagram private.
The Cat
In another thread Thursday morning, O'Ferrall clarified that custody of the couple's cat, Aries, "was never in question."
"Aries actually made his own decision about this. The night I left Jared's bedroom, Aries leapt off the bed and trotted after me. Never looked back."
She added that although many fans think of Aries as Jared's cat, she actually owned him for four years before she met Jared.
The Backlash
As O'Ferrall's thread began to circulate around Twitter, fans quickly turned against Knabenbauer, who lost over 100,000 subscribers to his YouTube channel in a day. He was also removed as a moderator from his own subreddit, r/ProJared.
O'Ferrall clarified that she didn't want people to hate Knabenbauer.
"That's not the point. I don't hate him. I think he needs help and I hope he gets it," she tweeted. "My story and pain are still valid, and being able to finally share this after a year of suppressing it is the most liberating experience I've ever had."
She even spoke up for Knabebauer when one user accused him of having "a small peen."
"That part is actually not true," she wrote. "He wronged me but I'm honest. His dick is big."
The Nudes
Buried in all of the adultery revelations was the fact that Knabenbauer had been soliciting and sharing nudes with his fans for years. O'Ferrall said it had started as a joke on Tumblr, then Knabenbauer had a Tumblr account just for nudes. She said that initially it didn't bother her, tweeting, "It was ostensibly a body-positive space for consenting adults, and I approved on that basis."
As Kotaku reported yesterday, however, one (now-private) Twitter user, @chaitemporary, said Knabenbauer "sexually manipulated" them when they were 16 years old.
"We spoke sexually. He sent me pictures of him in cosplay with his dick very visible. He told me details about his sexual life and fantasies. Eventually, he sent me a dick pick … We didn't speak every day, but most. I sent him many actual, real nudes."
As the Verge noted on Thursday, a second user, who goes by Charlie, also posted a length statement on Thursday morning, saying he had also sent nude pictures of himself to Knabenbauer when he was underage, with Knabenbauer's encouragement.
The Verge reached out to NormalBoots, the creative collective Knabenbauer belongs to, which said in a statement that it had been made aware of the allegations in April, and that it had launched an investigation into Kanbenbauer, and that "prior to these allegations being made public, actions and measures were in process to terminate the affiliation of Mr. Knabenbauer from NormalBoots and to update its internal social media use policies." It added that they and Knabenbauer have mutually agreed to part ways.
The Cut has reached out to both O'Ferrall and Knabenbauer for comment, and will update this post if we hear back.