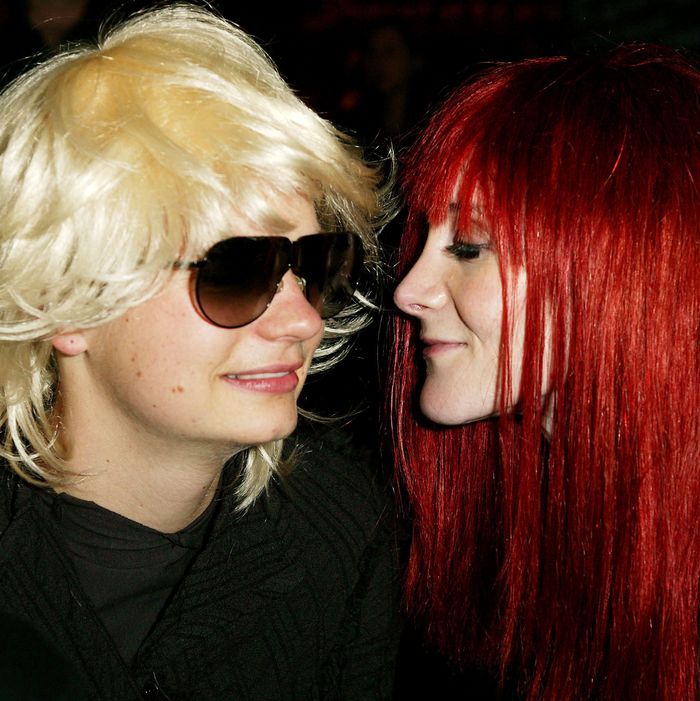 Photo: Matthew Peyton/Getty Images
The premiere of JT Leroy, a movie starring Kristen Stewart and Laura Dern as the perpetrators of what is perhaps one of the greatest literary hoaxes of our time, took me right back to 1999, when Leroy's books Sarah and The Heart Is Deceitful Above All Things were published to great acclaim. I remember being enthralled by the story behind Leroy, whose novels supposedly drew on the writer's experiences growing up in West Virginia as an HIV-positive teenage sex worker and heroin addict. In 2005, a New York Magazine story exposed that Leroy's books were actually written by Laura Albert, a 35-year-old punk musician and sometime phone-sex operator, and that an entirely different person, named Savannah Knoop, had been acting as the face of the shy, androgynous, and profoundly talented runaway named Jeremiah "Terminator" Leroy. Immediately, the outrage poured in, both from the Hollywood celebrities they'd befriended and "fooled," and the literary world at large. As a young writer myself, I remained thrilled by the whole thing, and continued to root for JT Leroy, who in my view had turned out to be the best storyteller of my generation.
Knoop — who is Albert's sibling-in-law — and I first met at a friend's birthday party six years ago, and went on to work on a project together. Knoop eventually wrote a memoir about the experience of becoming the physical embodiment of Leroy, befriending Dennis Cooper, Winona Ryder, Courtney Love, Bruce Benderson, Gus Van Sant, and Asia Argento, and keeping Albert's character in the public eye for six years before being exposed. Girl Boy Girl: How I Became JT Leroy, which they helped director Justin Kelly adapt for the screen, chronicles the years leading up to the elaborately choreographed piece of performance art's abrupt end in 2005, and the storm of public outrage and celebrity betrayal followed.
I spoke with Knoop after the L.A. premiere about their life after the JT Leroy story unraveled, living as a character, and what it's like to be played by queer icon Kristen Stewart.
Svetlana: There's a line in the movie that gets repeated: "Sometimes the lies are more true than the truth." I think that's what's so thrilling about the JT Leroy story: It's a study in how far you can take the conceits of fiction.
Savannah: Yes, with fiction, there's that filter, that alchemy of coming in closer through distancing. The line is some mix of Donna Haraway in Primate Fictions and many Oscar Wilde quotes, including the one that opens the film: "The truth is rarely pure and never simple."
How did life change after the hoax was discovered? What happened over the next few months?
I did a lot of bathing in OSento in SF. I had a small, independent clothing line which kept me really busy. I just put my head down and worked.
Did you have a community?
I had a lot of disparate friends, but not really a community. I was in too deep of a web to really have a community. But I eventually moved to New York. I really haven't made any clothes since.
I remember that line from the film that the Laura character says to Savannah: "I'm glad you know how to put an outfit together! All you do is show up."
Right. But if you think about it 90 percent of life is showing up!
I love how a lot of the lines of dialogue have many meanings. I was talking to my mom about it, and she said, "I don't really understand, did they break the law?" I thought that was really interesting. What is the law that was broken here? How was this or wasn't this a breach of an ethical contract?
Well, I think in terms of the interpersonal, it's important to take responsibility for your actions and how it might affect others and that has been ongoing for me. In a public platform it all had so much to do with context: what is the difference between praying and talking to yourself in public, what is the difference between performing a self and lying? What do you owe to the public? And then as well, people deciding they didn't like these fictional books after it all came out. That logic is confusing to me.
Courtney Love, who in real life, spent hours on the phone with JT, Laura Albert, and hung out with you in real life, is in the movie.
She plays a mix of people, yes. An amazing composite character,
How did that come to be?
I think it's important to distinguish that I truly was the body, when JT was out in public that was me, but then I would go back to my life, and Laura would pick up where we had left off from there. I think it's amazing that we have Courtney in it, in that it is an example of a full circle moment, like: "I don't know who was on the phone but I liked that person, that was my friend, I loved the books, and I'm here." It's like a pure moment of relationality.
The whole story keeps reiterating these question about fantasy, identity, intimacy…
Yes, the character does get to know some people really well, but is left wondering if they are actually relating to each other or to projections of one another.
I thought the casting of Kristen Stewart in the film was ingenious because she too has played so many roles. And her own sort of transformation in the public eye, going from Twilight ingenue to lesbian heartthrob. What insights did she bring to the role?
How she plays JT; you can feel Savannah underneath it. She's giving you so many reactions in one gesture. One of the most illuminating parts for me was to see Kristen play both JT and Savannah, and that they feel very disparate — like two very different people. And to me, in my emotional memory of it, I wasn't sure … what I owed to the experience and what does it owe to you? I kind of stopped knowing who I was after so many years. We became knit together. But seeing Kristen do it, it was so clear to me: I played a role!
JT's shyness is really pronounced in the film. Was that more you or JT?
I was never shy like JT. But when I would be him in the world, I would feel his shyness and inarticulacy seeping into me. I'd be like: I'm a social animal, but now I don't have a voice. What happened? Where am I?
But surely that was also the terror of performing; it's one thing to have an outgoing personality, it's another thing to be like I am going to play this person in this really public context; that's super intimidating.
I guess, but actually that might be the part I'm vaguely equipped for. JT was a shy, vulnerable little bunny. So gentle, too. When I would see footage of myself playing JT, I would look at it and go, oh, yeah, I am that gentle.
That gentle lesbian life. Is Kristen Stewart a gentle lesbian?
She's so amazing. And by the way, no one tells her what she is. We got up to announce the film in L.A., and the announcement is all sentiment and gratitude, so you're thanking everyone — I think I said it's just been a very weird experience. And then Kristen was standing there and sort of made fun of me, saying, it's really "weird" — I had to laugh, I realized it was a direct quote from the movie.
In the film, JT seems so swept up in the thrill of it all, so completely excited and starstruck and enchanted by all the people they were getting to be around. Was there an emotional contrast to what was going on inside of you, Savannah?
Yes, there was an extreme discomfort and I think that push and pull comes across in the film. You would get swept up the delight of the character, imagining how it would be for him, but also, of course, it has very little to do with you and actually you are having your own existential meltdown on the side. So it's sort of both about capturing those contradictory feelings simultaneously.
That's something we thought a lot about when writing the Laura character in the film: The public is making her feel like a whole person, because that's the realm where her inner reality is seen, and recognized as part of JT's genius. But the fucked-ness of those terms is that she's there watching it as the handler, Speedy; she receives it but not directly. So she again is not being seen, but JT is being seen so that's a joy. More simultaneous contradictory feelings.
Was there guilt there? In the film, Laura Albert is very out loud about her feelings of exclusion.
Yeah, but that's the thing: I walked into her terms. And she didn't ask a rock, she didn't put a wig on a rock. You can't expect to involve other people and them not have their own experience. In fact, they're not your second life avatar.
I did wish that there was more of Savannah's backstory.
There is no backstory at all. I mean it's in the book. Adapting it into a film is a process of translation, and in the visual and compressed form of the film, logistics often faded away to make room for the emotional trajectory of the characters.
What really struck me in watching the film, and I also thought about this when I watched Laura Albert's documentary [Author: The JT Leroy Story], was the trans-ness of this story. There's that amazing scene where JT is being questioned at a press conference in Italy about their gender, and says, "It's not my job to guide you through your discomfort, I can be whoever I want to be." It all feels oddly prescient. How did you, Savannah, know how to articulate those things back then?
Well, it didn't happen quite so cleanly and tidily. In the real-life version I got under a table and answered the questions. I think it was part of the persona — the withholding, the identity, the disguise. In some ways JT is such a vulnerable character and he can't make you feel comfortable. Like it's not possible.
The question that was being asked was something to the effect of, "You're obviously a woman, not a man." It's such a scary question to be asked. In terms of your own self-conception around gender identity, was it a benefit to inhabit JT?
Feeling like an impostor does feel like such a metaphor for being queer or an artist. In the position of JT you're on display in your impostor syndrome and you're being celebrated for it and it's a cozy, familiar little corner. Over the six years, I would quit but then always came back to it and you have to wonder why. That was part of why. It was one of the deeper emotional catches in playing JT.
What was the other catch?
When I was about eight, I have this distinct memory of walking down the street, and my sister's friends waving out the car to me, and thinking, "They don't know that I am going to be a prostitute." Isn't that weird? I have no idea where that came from! I also always wanted to be a writer when I was a child. It's like the genie in the bottle that's like, haha. It took me a long time to figure out what I was doing. To play a writer was some version of feeling like I was out in the world as I wanted to be. To play an artist.
Since moving to NYC, your work has been in the visual art and performance world. Are you doing what you want to be doing?
Yes, all the sculpture, all the performance and collaboration — the rocking tails, the bathhouse project, the work around fetish and wrestling, making clothes, throwing parties, performing in Simone Forti's work at MoMA for six months — is about wrangling the body, and using social codes around consent and permission as a sort of material.
Doing it is not the problem. I mean, we're out here, doing all the weird things we do. But how do we get paid to do it!? Yesterday, when we flew back from L.A. for the premiere, we made sure to get to the airport early because Justin had these United Lounge tickets that he'd saved. We were in Terminal 1 and the lounge was in Terminal 3. So we went through security three times and almost missed our plane. All to get that free chicken wild rice soup.