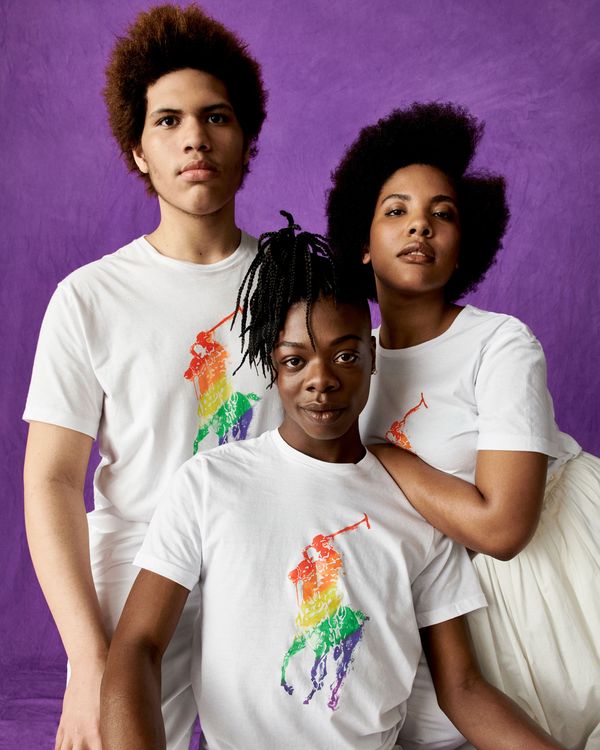 Cory, Tyriq, and Evrisha.
Photo: Cass Bird
It's almost that time of year when rainbow flags decorate the entire city: Pride! And this year is a big one. It's the 50th anniversary of the Stonewall riots of 1969. And in honor of the occasion, today Polo Ralph Lauren will release a gender-neutral capsule collection featuring the Polo Pony in rainbow stripes — on a T-shirt, polo shirt, hoodie, tote, and baseball cap.
One hundred percent of proceeds from the sale of each graphic tee and 50 percent of the purchase price from the sale of all other items will be donated to the Stonewall Community Foundation, benefiting an international network of LGBTQIA+ organizations.
The campaign was shot by lesbian photographer Cass Bird to spotlight various influential people in the community: free-skier, Olympic medalist, and activist Gus Kenworthy; Houston Ballet dancer Harper Watters; trans writer, comedian, and actress Patti Harrison; photographer and model Jacob Bixenman; trans actress Josie Totah; and Hetrick-Martin Institute graduate program members Evrisha, Tyriq, and Cory.
Shop the capsule here, and see images from the campaign below.