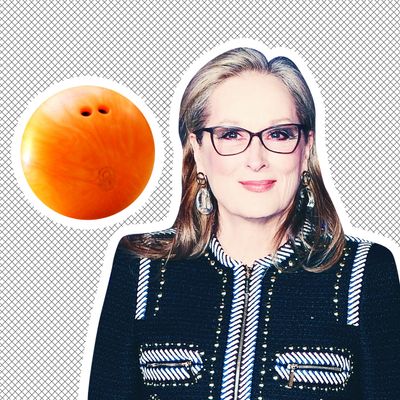 Meryl, bowler.
Photo: Getty Images, Shutterstock
She's an activist, she makes memes, she collects Academy Awards like they're stamps, she gets bangs. Truly, is there anything Meryl Streep (TM) can't do? According to her Big Little Lies co-star and supposed "friend" Reese Witherspoon, the answer is yes.
During an interview on Monday's episode of The Ellen Degeneres Show, Witherspoon made this specious claim about the decorated actress.
"I actually discovered the one thing that Meryl Streep is bad at — bowling. I honestly think at one point she threw it the opposite way and people, like, scattered."
Wow. Hm. Okay.
Witherspoon said during the filming of Big Little Lies season two, in which Streep joins the cast as the mother of the (spoiler) deceased Alexander Skarsgard, Witherspoon and co-star Nicole Kidman rented out a bowling alley in Monterey, and invited Streep, who was … not good (??). There is a picture of the night in question that you can see here, in which Steep looks like she's doing amazing, sweetie.
Witherspoon added, "It was really fun. She's such a good sport. She's a doll."
But is it really possible that Meryl Streep is "bad" at bowling? Or is it just that we, as a society, have been bowling incorrectly for tens of thousands of years? What does she know that we don't?
In my opinion, if Meryl Steep wants to hurl a bowling ball directly at my face, miles away from the nearest bowling alley, she can, and also, that now counts as a strike.