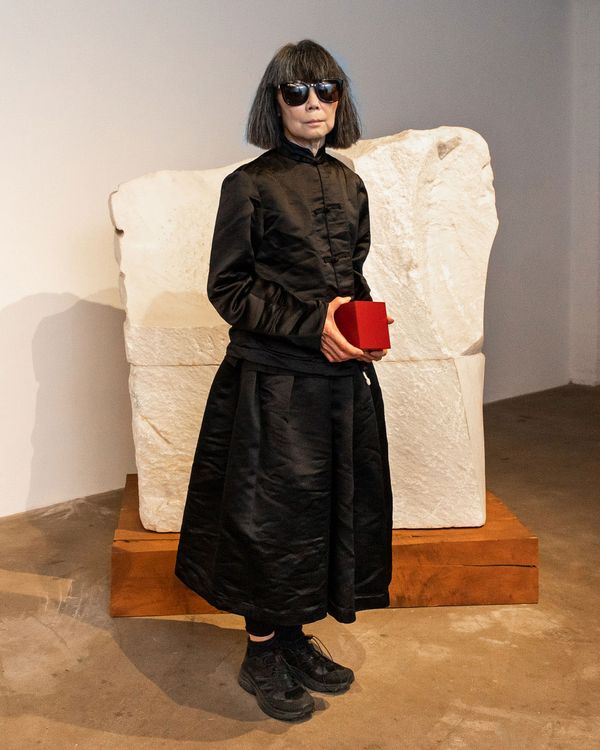 Photo: Benjamin Lozovsky/BFA.com
On Thursday night, Comme des Garçons fashion designer Rei Kawakubo made a rare public appearance at the Noguchi Museum in New York City wearing an all-black outfit, sunglasses, and black Solomon sneakers.
She was there to receive the annual Isamu Noguchi Award, which was created in 2014 to recognize those who share the late Japanese-American artist's spirit, and his commitment to bridging Eastern and Western cultures. Kawakubo is the first fashion designer to be named for the prize, but the museum's director, Brett Littman, felt she was an ideal candidate.
"Rei Kawakubo and Isamu Noguchi completely ignore and defy traditional boundaries in their respective practices," Littman explained. "Both just do what their work leads them to do, undertaking it all with profound seriousness, but without worrying whether this or that is 'art' or 'fashion' or will be accepted."
Kawakubo's feelings about the award reflected her distaste for labels. "Unlike Noguchi, I don't feel I am an artist, but I feel we share a similar spirit of always searching for something new," she told the Cut via email. "I am happy to receive this award because it recognizes creation, which is the main value of Comme des Garcons and what I have worked on on a daily basis for fifty years."
Even after all this time, though, Kawakubo is still not one for sentimentality. When asked if she was interested in cultivating a legacy similar to Noguchi's, she replied: "No, I am not interested in posterity."