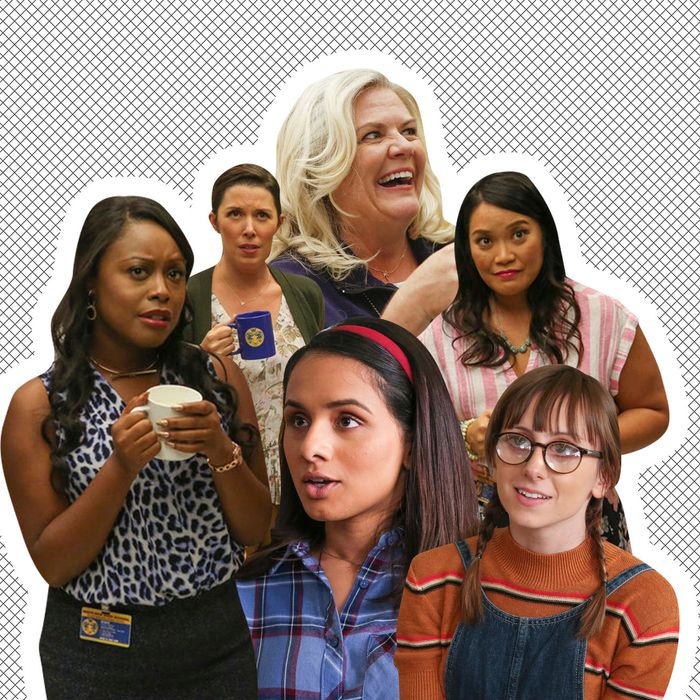 Even though it is a known fact that I have impeccable taste in comedy television and would never watch anything bad or uncool, it is tough to get friends to watch A.P. Bio. The Glenn Howerton–fronted NBC comedy (the need for these qualifiers is indicative of your mistake) had, I think, not-very-good subway ads — Glenn Howerton in front of a chalkboard, or whatever. Maybe the name — A.P. Bio — is not particularly enticing. I don't know.
But now look — it got canceled.
(Your fault.)
To explain the plot of A.P. Bio briefly, Jack Griffin (Howerton), a disgraced Harvard philosophy scholar, returns to his hometown of Toledo, Ohio, to ostensibly teach a high-school A.P. Bio course. The first season involved Griffin forcing his students to take part in various plots to humiliate his philosophy rival, and it was very funny. But the current season, A.P. Bio's second, now freed from that sometimes cumbersome narrative device (he's over the rival), is truly inspired. It is so funny. It is too funny. And it is too smart. And it is too good. Of course, it had to die.
But now that its fate is sealed, I hope you will finally listen to me, Kelly, who is right. I promise you that you will love it if you watch it. And you will love it, in particular, because of its cast of incredibly funny women.
Lyric Lewis, Mary Sohn, and Jean Villepique play a tight-knit group of teachers, living their lives and making fun of their male co-workers. Paula Pell is Principal Durbin's (Patton Oswalt) extremely odd, extremely sweet secretary. Allisyn Ashley Arm is confident, horny, nerd student Heather; Aparna Brielle is smart and perpetually annoyed student Sarika. They are all wonderful. The male students are also wonderful, which you will find out as soon as you watch.
It is, I think, not very effective to attempt to explain how a show is funny in text. But I would like to share my favorite joke, and maybe that will give you an idea, or maybe it will just ruin the joke — let's see. In the second season's eighth episode (at about the ten-minute mark), the teachers are out for drinks when Jack Griffin (Howerton) comes in to pick up some food, wearing a black turtleneck and white gloves. "Well, everyone's gotta eat, even … naked Mickey Mouse over here," Mary Sohn (art teacher Mary Wagner) says. Jack explains that it's cold outside and takes the gloves off, at which point Lyric Lewis (history teacher Stef Duncan) says: "Now he looks like notorious bad dad, Steve Jobs."
Incredible.
Referring to Steve Jobs as "notorious bad dad" is truly one of the funniest jokes I can recall hearing in recent memory. I hope it comes across in writing, but if not, I'll remind you that I gave you the exact time stamp if you'd like to watch it for yourself. I will carry it with me, I think, forever. It crosses through my mind regularly and always makes me smile: notorious bad dad, Steve Jobs.
(Paula Pell is also absolutely incredible and so hilarious and so great, but I refuse to attempt to explain her funniness in this post.)
I am begging you to watch A.P. Bio and enjoy it, for your own good. It is sometimes mean, thank God (I'm personally tired of toothless, "nice" comedy, like, not to mention any names but The Good Place) yet never cruel. It's sweet the way Comedy Central's Detroiters, also too good and also canceled after its second season, was sweet — always in a way that feels justified, always with an edge, never saccharine.
As happens now with television shows that a small band of dedicated fans feel end too soon, there is currently a campaign for another network to revive A.P. Bio. I do not take up the mantle of actual human-interest causes with enough public vigor to justify campaigning for a show I'd like to have more seasons, so that is not what this is. But the show truly was great, and I'm sad that it's gone, and I think you should binge-watch it next time it's raining. And watch the last four episodes we have left. Please! You will enjoy it.
Rest in peace, A.P. Bio. You were too good. I love your women. Thank you for "notorious bad dad, Steve Jobs."