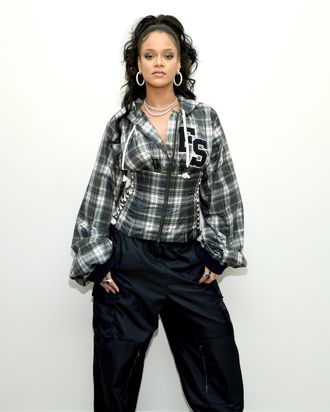 Rihanna.
Photo: Dimitrios Kambouris/Getty Images for FENTY PUMA by R
When Rihanna didn't show up to the Met Gala on Monday night, we could only assume she was busy doing something more important.
Turns out, she was gearing up to make history. On Friday, the Times confirmed a longstanding rumor that Rihanna is working with the luxury conglomerate LVMH — home of Dior, Givenchy, Celine, and Louis Vuitton — on a fashion brand. It will include ready-to-wear, shoes, and accessories.
The name? Fenty, but add a "maison." That's right, Fenty is now a maison, as in "house." That's French for: The good stuff. (It actually refers to a studio, or workshop where garments are traditionally made.)
It might not seem like a big deal for a celebrity to slap her name on a clothing brand — Rihanna herself has collaborated with brands like Puma and Manolo Blahnik in the past — but this move is unprecedented. Rihanna is the first woman to start an original brand at LVMH, the first woman of color at the helm of an LVMH maison, and Fenty will be the first new house created by LVMH since Christian Lacroix in 1987. Fenty will reportedly show at Paris Fashion Week.
"Everybody knows Rihanna as a wonderful singer, but through our partnership at Fenty Beauty, I discovered a true entrepreneur, a real C.E.O. and a terrific leader," Bernard Arnault, the chairman of LVMH, told the Times in a statement. Fenty has partnered with LVMH since 2017 to create and distribute Rihanna's popular beauty line.
"Designing a line like this with LVMH is an incredibly special moment for us," Rihanna added. "Mr. Arnault has given me a unique opportunity to develop a fashion house in the luxury sector, with no artistic limits. I couldn't imagine a better partner both creatively and business-wise, and I'm ready for the world to see what we have built together."
Rihanna joins the ranks of designers like Hedi Slimane, Nicolas Ghesquière, Marc Jacobs — even Karl Lagerfeld, who worked under LVMH at Fendi. Will the industry accept a celebrity in such a sacred position of power? LVMH clearly recognizes Rihanna's ability to make money. Her career has proven that she has personal style and influence, and we know she lives her life as a creative person. She has a long history with fashion. Now, she has to prove that she's got the big ideas to keep a luxury brand alive. If her lingerie line, Savage is any indication, Fenty Maison will cater to a diverse range of customers, and break the rules at every turn.
Per her statement, Rihanna seems keen to talk about Fenty as a team effort. A true house. We'll see what Fenty Maison has up its sleeves — and soon. New products will reportedly be revealed "in a few weeks."