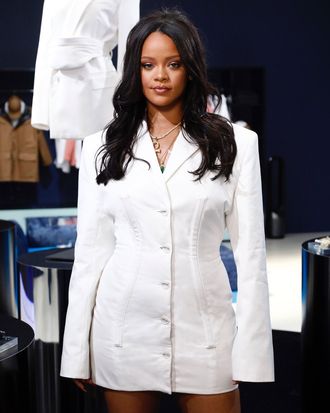 On Thursday morning, Rihanna unveiled the first collection for her new Fenty clothing line. It was a historic moment for everyone involved, and yet there was no runway show to mark the occasion, and no star-studded guest list — only an intimate event in Paris, where Fenty is now based. Perhaps all Rihanna needs to do to sell clothing is to show up.
She's certainly charting her own path. Everything about Fenty is new. Rihanna is the first person to start an LVMH brand from scratch since 1987, not to mention the first woman, and first woman of color, to be CEO and artistic director of an LVMH-owned house. Her line will disregard the seasonal calendar, with direct-to-consumer collections dropping like mixtapes at frequent and surprising intervals — the first on May 29, with a focus on tailoring. Unlike traditional designers and brands, Rihanna also comes with a built-in following of 71.2 million on Instagram. (By comparison, Chanel has 34.7.) The Fenty campaign video she shared yesterday already has over 2 million views.
So she's off and running. The impact her line will have on the industry is still up for debate, but if we're worried about good design losing out to star power, then let's talk about the design. What makes this collection distinctly Rihanna, and not the work of some algorithm or a team of fashion veterans? Is it novel enough for customers to shell out anywhere from $200 to $2,000? Or does that even matter?

At first glance, I do see Rihanna in this Fenty collection, mostly because of the way she's been dressing lately. Not only has she casually been sporting her own pieces in public for months now, but I get glimpses some of her other recent outfits in the line, including an oversize tan suit by a Parsons graduate, a Tom Ford denim set, a Matthew Adams Dolan coat, and a Jacquemus shirt dress. (Dolan was a collaborator, and Simone Porte Jacquemus was at the Fenty launch in Paris.) I'm not saying Rihanna is copying other designers — she's her own muse, as she recently declared. But she and her team of stylists have spent the last few years carefully honing her wardrobe signatures, to the point where a boxy suit or an oversize men's shirt has become "so Rihanna," whether it was designed by her or a 29-year-old Frenchman.
And ultimately, if the line succeeds, it will be due to the singular, "bad gal" ethos that she's injected into every item. In the same way that a Rihanna album sounds like Rihanna, her clothes also seem to come with their own soundtrack, one that oozes laid-back confidence. Personal touches like a waist "snatched" by a fanny pack, or T-shirt with a corset built in seem designed to make you feel like Rihanna — if not the celebrity herself, than at least someone like her, who can go have dinner with Drake in nothing but a button-up shirt and casually take off her belt when she's full. I would buy a similar look simply to re-create that moment.
Many of Rihanna's design impulses are about fit, and because her body isn't sample size and is constantly fluctuating, she inevitably creates clothes that other women can literally fit into as well (the line goes up to a U.S. size 14). Because she test wears her looks, she's put thought into how they feel. The cotton canvas used to make her suits, for example, is called "Weapon," and seems to exist somewhere in between athleisure and suiting. She's also partial to a thick Japanese denim that creates casual structure. And her silhouettes are uniquely designed to accentuate curves.
That said, I'm curious to see whether some of the more radical pieces from this Fenty collection are actually flattering on anyone besides Rihanna. There were some looks, like the jackets, that I thought could use some more polish. But perhaps Rihanna has a new, more flexible definition of "flattering," and I'm the one who needs to catch up. Maybe it's not meant for me, and that's fine.
Most designers spend years honing their voice, but as a celebrity and acutely self-aware person, we feel like we already know Rihanna. We'll see how this effects the industry, and what it means for the value of personality over taste. In the meantime, Fenty will surely evolve, and I trust Rihanna the person, bad gal and breaker of rules, to at least shake things up.