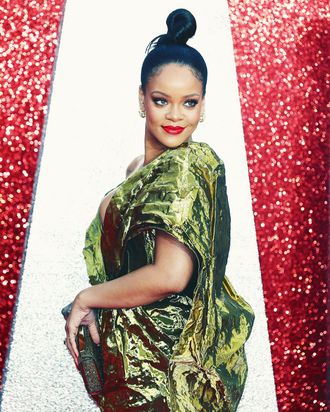 Rihanna.
Photo: Tim P. Whitby/Tim P. Whitby/Getty Images
Rihanna, the singer-turned-beauty-mogul-turned-fashion-designer, gave T magazine the first look at her new luxury fashion line, Fenty. And we learned a lot.
She wore her own clothes in the interview, which included a mix of suiting and corseting. The interviewer asked about this combination, and it's implications about masculinity and femininity, and Rihanna gave us some insight into who inspires her:
RF: I use myself as the muse. It's sweatpants with pearls, or a masculine denim jacket with a corset. I feel like we live in a world where people are embracing every bit of who they are. Look at Jaden Smith, Childish Gambino. They dare you to tell them not to.
In short, if you want to dress like Rihanna, Rihanna will make clothes for you. But Rih also dropped some more key information about her line. First, it will be more size-inclusive than the other LVMH luxury brands. It'll go up to a size French 46, which is approximate to a US 14. "I'm thick and curvy right now, and so if I can't wear my own stuff then, I mean, that's not gonna work, right?" It's not quite the size range that her lingerie line has (Savage x Fenty goes up to a 3X) but it's a start.
Second, don't expect to see it at New York Fashion Week. Rihanna will be doing monthly drops on its website instead of relying on shows. Yes, it's because she's a millennial. "The brand is not traditional," she said. "It's a new way of doing things because I believe that this is where fashion is going to go eventually."
Third, and most importantly, a press release announced that Fenty is coming so soon. A pop-up store will appear in Paris on May 24 and the first drop will go live on May 29 at Fenty.com. It's all happening.