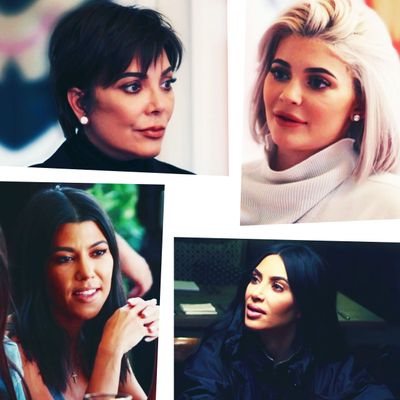 Photo: Courtesy of E! Entertainment
Like the family it documents, this week's episode of Keeping Up With the Kardashians was solidly built. It was exciting and devastating and reminded me of the days of yore, when the episodes were only 30 minutes long. All of this only slightly makes up for the cameo made by a certain someone who lives in Washington, D.C.
In this week's episode our A-plot was the Woolsey fire; our B-plot was Kim Kardashian West's prison reform work; our C-plot was Kris Jenner's music-video debut; and our D-plot was Rob. #LEGGO
Cold Open/Scene 1:
In one of the most anticipated scenes of the season, we get a look inside a launch party thrown for frequent guest star Kylie Jenner's cosmetics company. This one, held at her home, honors her BFF collaboration with her now-former BFF, Jordyn Woods. As you may know, earlier this year that Jordyn Woods had an illicit encounter with Tristan Thompson, Khloé Kardashian's former boyfriend and the father of her child. We also know that this scandal seems to have torn Kylie and Jordyn apart, but this scene comes before all of that. In our cold open, Khloé makes a toast celebrating the makeup launch, thanking Kylie for allowing others to be a part of her blessing.
In a bone-chilling moment that both my therapist and pastor will hear about, Khloé speaks directly to Jordyn. Khloé says: "I've known you forever. And I'm so proud of you and the woman that you have grown into and that you're growing into." She goes on to tell the young woman who will one day ruin a portion of her life, that she's so proud that she's stuck by Kylie's side through thick and thin. Jordyn remains silent, but offers a smile. After Khloé's toast, Kristen Jenner, raises a glass high and cheerily says, "here's to Jordyn and Kylie!" This scene was filmed on September 21, 2018.
Scene 2:
Khloé is sitting at her kitchen table with her daughter True in her lap, as she hears a tiny voice creep up behind her. It's Dream Kardashian and her father, former reality-TV star, Rob Kardashian. Since the total number of Kris Jenner's grandchildren has doubled since the last time Rob was on the show, seeing him was a treat I didn't know I wanted. Seeing Khloé interact with Rob, it becomes clear that the sisters are telling the truth when they say they are all a part of Rob's life, just not on camera. There's an ease to the conversation, Khloé mentions that Rob reminds her of their dad as a father, Dream shows affection for True, and Robert hugs and holds his youngest niece. Khloé offers True one the many ice cream treats in her freezer, and in her confessional she talks about how lovely it is that Rob will be with Dream for her actual birthday this year. He's planned a big celebration, and the family just can't wait to see his visions come to life. This much needed scene was filmed on January 18, 2019, over three months after Dream's November 10 birthday. A kontinuity error, yes, but a major hint that Rob will show up more in this season and he's made himself available for reshoots that serve an episodes' story line.
Scene 5:
This scene opens with footage of the devastating Woolsey wildfires in Southern California, as do several others in this episode. We're shown on screen that this is Day 1 of the fire. Khloé paces frantically in her kitchen as she takes in the news. In between speaking with her assistant Alexa, Khloé calls her siblings to check on their status. It's not time for anyone to evacuate just yet, but she and Kourtney are still on high alert. Kourtney says that her kids are showering and getting dressed in case they need to leave. Khloé tells Alexa that all of the doors should be locked in the event of an evacuation. Alexa tells Khloé that they should also pack up her memory box and any valuables, which freaks Khloé out. This scene was filmed on November 8, 2018.
Scene 6:
Kim's in San Francisco with Kanye West and North for her law classes when Khloé FaceTimes her while packing an evacuation bag. Kim doesn't seem too phased and tells her sister that if things start to look dire, she'll head home, but for now she says she needs to meet with Jessica Jackson, her law mentor, about a bill they're working on. This meeting is especially important because Jessica just got back from the White House and will have much to discuss.
After Kim and Khloé end their call, Kim heads to lunch with Jessica, North, and Kanye. Before taking his seat, Kanye jokingly asks if wearing outdoor coats at the table is now a thing, as Kim and Jessica both still had their coats on. This is the first of two lighthearted Kanye moments in this episode.
Over lunch, Jessica tells Kim about the progress on their First Step Act to reform our prison system and cut down on recidivism. Jessica tells Kim that no matter what, she needed to talk to the president to try and get any bill passed, or to at least have him publicly speak about it. Kim knows and agrees since she had to meet with him to get Ms. Alice Marie Johnson out of prison as well. Lunch winds down, and North, who is on her father's lap, attempts to say Kim's full name "Kim Kardashian," over and over again. She has trouble pronouncing the last name. When lunch ends, Kim, Kanye, and North head straight for the plane because Kim received a text that the fire is closing in on her home. This scene was filmed on November 8, 2018.
Scene 7:
Rob Kardashian still hasn't clocked out of this episode and for that we are grateful. Seen through Khloé's home security system at 12:30 a.m., Rob lounges on Khloé's bed and watches TV. Khloé, on the other hand, is running around her home trying to pack and ready herself for departure because a mandatory evacuation has been issued for her area. Rob does not want to leave because he's having party decorations delivered to Khloé's house for Dream's party. Plus, Double Dare is on!!! Khloé, in big sister mode, pleads with her brother to get the fuck up and evacuate because there is a wildfire headed straight toward them. When he continues to refuse, Khloé tells him that he's one of those people who don't evacuate when they're told to. The words come out her mouth as though she's calling him every nasty name in the book. It's almost like a #TBT of season's past! This scene was filmed in the wee hours of the morning on November 9, 2018.
Scene 8:
Hours later, Khloé and True keep their eyes on the news at the Beverly Hills Hotel. Kourtney and her daughter Penelope have joined them. Khloé asks Kourtney to call Rob, because Khloé doesn't want to keep fighting with him even though he's being a "dick" about not evacuating. On the news, Khloé sees Kourtney's house, which is very near to the flames, and while it remains untouched, firefighters are on her neighbor's property. The sisters try to get a hold of as much of their family as they can, and thankfully they're all safe. Rob's with a friend, Kris has evacuated her home and gone to her Century City condo, and Kim and Kanye are packing to depart their home. Everyone's safe, but Khloé doesn't understand why others aren't panicking. Kourtney seems abnormally chill and so does Rob. Khloé does call Kris, who admitted to crying and saying "bye, house!" as she left. This makes Khloé cry as she thinks about how they may all lose everything because their homes are so close together. This scene was filmed on November 9, 2018.
Scene 9:
Kim and her kids have joined Kourtney and Khloé. All three sisters are fully glammed up, which is a choice considering the fact that they've evacuated their homes with just the essentials. Khloé even has an entirely new manicure! The kids run a muck in the hotel room, and Khloé wants to turn the news back on to keep tabs on the fire. Kourtney asks Kim and Khloé to have a chat away from the kids. She says that they need to have some fun so as to not stress them about with constant fire talk and news watching. Khloé thinks she's done better at keeping things light, and Kourtney simple says, "no." Back in the room, the sisters have fun with the kids by jumping on the bed to play Ring Around the Rosey. Family bonding at it's finest, which they've had a lot of time to do by this point because it's about 504 hours since the last scene. This scene was filmed on November 30, 2018, three weeks after the second day of the fire on November 9.
Scene 11:
In the midst of dealing with the fire and being evacuated from her home, Kim's still kept her commitment to cook with Ms. Alice Marie Johnson, the woman she had pardoned last year. This was supposed to happen in Kim's home, but since that's not a possibility, Kendall has opened up her home to the family. When Ms. Alice arrives with her sisters, Dolores and Patricia, Kanye and Kim greet them. In his second lighthearted moment of the episode, Kanye gives Ms. Alice many hugs and walks with his arm around her to Kendall's kitchen. Kanye also tells Ms. Alice that Kim has dedicated all of her time to prison reform and is one of the hardest workers. Sadly, Kanye has to leave to go to the studio, but he gives everyone a hug before he makes his exit.
Kim and Ms. Alice cook as a variety of Kardashians and Jenners trickle in. Everyone's been so excited to eat Ms. Alice's food, and it looks like she doesn't disappoint. At the table, a nearly bare-faced and stunning Kris Jenner, tears up as she asks Ms. Alice what she had to bring home (Emotionally? Spiritually? Physically? Who knows!) with her after spending two decades in prison. Ms. Johnson says she only had the clothes on her back, but she's thankful that she had a support system to lean on. Though she knows that Ms. Alice has book deals and other projects in the works, Kim asks if it would have been hard for her to get a job straight out of prison. Ms. Alice says it most definitely would, and the tragically low job market for former inmates causes them to return to a life of crime and then back to prison. It's clear that Kim just loves Ms. Alice, and all of the reform work isn't just for show. This scene was filmed on November 12, 2018.
Scene 12/Scene 13:
Future EGOT winner Kris Jenner goes to an Ariana Grande music-video shoot to grace the up-and-coming musical artist with her presence. Kris, a closet Ariana stan, is super excited to make a cameo in the Mean Girls inspired part of Ariana's "thank u, next" music video. Kris cannot contain her excitement. On set, Kris dives right into character, and giving the theatrical piece her all. Dancing, smiling and allowing herself to be goofy, Kris Jenner has revived the video vixen role, bringing a few moments of levity to this episode. The producers claim that Kris filmed this during day five of the Woolsey fire, but she didn't. This scene was filmed on November 19, 2018.
Scene 15:
Kim Kardashian West is interviewed by Van Jones at the Criminal Justice Reform Summit, just minutes after the two of them learned that their First Step Act Bill passed. Both Kim and Van are emotional over their success, as is Ms. Alice in the audience. Van asks Kim a series of questions about her involvement in criminal-justice reform, Kanye's politics, and why she loves her husband. The last question felt a little loaded, considering the fact that Van is getting a divorce from his wife, he and Kim seem to spend a lot of time together, and well, Kim's husband wears MAGA hats. Kim does say that Kanye pushed her to be wholly herself, and promote things she truly enjoys, unlike the past when she'd promote cupcakes and shoes she'd never wear. Yes, Kim loves Kanye, but more importantly I love the idea of Van secretly pining for Kim and them running away together, so that's my new reality. This scene was filmed on November 14, 2018.
Scene 17:
In an attempt to make sure Rob doesn't replace her full-time, Kylie throws Dream a cockroach fairy-tale themed 2nd birthday party. Dream's original party had to be canceled due to the fire, but this one is still overflowing with love and fun. The party is for Dream, but it's also a chance for the family to take a deep sigh of relief since most of them are all moved back into their homes. Kris rightfully calls Kylie the queen of parties, before the two of them chat about how blessed they are to have not been more affected by the fire. Kylie says that she can't imagine how things must have been for the people who didn't have extra help. Or, in her case, someone to collect her belongings since she was out of town during the evacuation. After their chat, they rejoin the party to sing "Happy Birthday" to the birthday girl! This scene was filmed on November 14, 2018.
Scene 19:
Kourtney, Kim, Khloé, Scott, and Kris dine at one of their favorite establishments, Casa Vega. And, though they love this restaurant, Kourtney has brought in a salad from another establishment because of her strict diet. Once everyone is seated, the kids make fun of Kris for looking like she hoped straight out of Clueless, but Kris doesn't care because she's the No. 1 trending topic on Twitter. All thanks to Ariana Grande's just-released music video, which she immediately shows them. They're mildly excited at the mother's success, which is all any mom could ask for. This scene was filmed on November 30, 2018.
Thanks for hanging out with me this week, Dolls! Unlike Rob Kardashian, I'll see you all soon for another #KUWTKE recap of Keeping Up With Yes, We Will Re-Shoot an Evacuation Scene in Which We Were Banned From Our Homes Due to a Wildfire, Because We're Professionals. #DOUBLEDAREISON