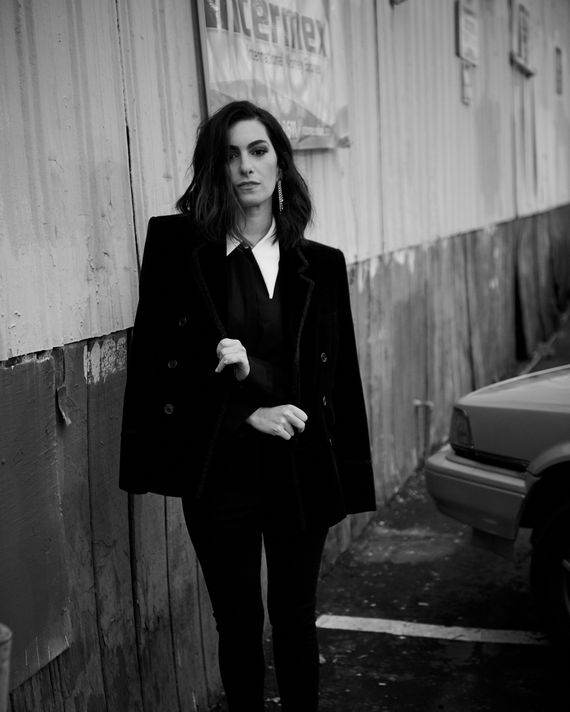 Photo: Courtesy of Netflix
In almost every personal New York lore, there is a monument to heartbreak. Everyone has a bar, a restaurant, a street corner, a diner that is now a parking lot but soon-to-be a high-rise with a Whole Foods in the basement, that will be forever known as that place where a heart got ripped out and tossed on the curb with the rest of the trash waiting for pick-up. These are the landmarks that can't be walked by without the sudden urge to sob or throw a brick through the window, or both at the same time.
Writer and director Jennifer Kaytin Robinson has brought me to hers: Atlas Cafe, a "whatever it's in the neighborhood" sort of spot in Williamsburg. In 2012, before the neighborhood fully became an Epcot version of itself, it was the perfect midway point between her apartment and her then boyfriend's. Until they broke up, that is. After which it became the coffee shop where she sat, day after day, on a wooden bench that gave her splinters, half writing a pilot, half waiting to see if maybe he'd walk in and she'd catch a glimpse. It sounds like a scene from one of the classic rom-coms that inspired her update on the genre with her recent directorial debut Someone Great.
"I was a sad little Sally," she laughs, wrapping her hands around a steaming mug of tea, on the last surprise snow day before spring really arrives. It's like the weather, or the black turtleneck Robinson's wearing, primed her for reminiscing about a  post-split depression. She tells me how she ended up in New York after a childhood in Miami — suffering humidity that wreaked havoc on the blowouts that tame her thick dark hair — and a stint as a teen actress in L.A. that started when she was 16, but ended around the time her boobs got too big to convincingly play Hannah Montana's pre-teen best friend. She'd found herself 21 years old and working in fashion PR when she heard John Mayer deliver a mid-concert monologue — fresh off of his breakup with Jennifer Aniston — that inspired her "not to wait to do what you love." Of all people, Mayer got Robinson to quit her job and start writing.
It was here in Williamsburg that she taught herself how to write scripts by reading other scripts, wrote a pilot, got a boyfriend, got another job in PR, got dumped, and then wrote all of her breakup angst into second pilot that starts with two 20-something women killing a man in their apartment and then debating if they should get a burrito at La Superior. She knew she was onto something. "I could feel as I was writing it, This is good. I know this is good. Nothing else is like this. Even if it doesn't get on the air," she tells me, sitting back in her wooden bench "I was like, This is a calling card." A year later, in 2014, MTV bought the pilot and made Robinson's Sweet/Vicious, a one-season critical darling about two female college student vigilantes who beat up men accused of sexual assault. It was canceled in 2016, but if Sweet/Vicious was born out of the rage associated with breakups, she put all the other emotions that come with heartbreak into the screenplay for Someone Great.
The movie begins at the end of a relationship — an inspired choice that came to her while partying away her own post-breakup feelings. Her friends had given her a choice: "stay in and cry, or go out and get fucked up." She chose the latter and while getting wasted and nostalgic about relationships and great New York nights, she says she decided, "Oh, I want to make a movie that's like 500 Days of Summer meets Drunk History." In that story, Gina Rodriguez is Jenny, a 29-year-old music journalist who lands her dream job as a Rolling Stone writer (Andie Anderson heads rejoice, that's a romantic comedy trope Robinson preserved), but the job is in San Francisco (enter the necessary cinematic conflict). Jenny's decision to accept it means the end of her years-long relationship with her boyfriend Nate, played by Lakeith Stanfield. So her friends, Erin and Blair, DeWanda Wise and Brittany Snow respectively, take her out for one last epic New York night at a music festival, to mark the end of an era and distract her from texting her ex.
Robinson condenses the true rom-com tropes — the meet-cute, the first kiss, the first lay, the first I love you, the adorable snuggles and giggles — into a supercut that sets up Jenny and Nate's relationship as a flashback that's as emotionally devastating as the first ten minutes of Up. But the rest of her portrait of young personal and professional New York is utterly modern and feels realistic — though you'd be lucky to have a molly dealer as cool as theirs, and the audience at my screening erupted in laughter at the mention of a promotion at Complex. But it's that hyper-specificity that made her first show resonate with audiences, and the way she taps into the music, slang, and pop-culture references we are all currently using, without it ever feeling forced, made the story feel natural and the characters in touch with her audience.
Robinson tells me she wasn't expecting to direct the film. She pitched the project after Sweet/Vicious was canceled and Netflix jumped on the script, but also suggested she take the helm directing. She says that for her, though the role wasn't entirely easy. There were fights, including one that almost resulted in Rodriguez backing out of the job. In the end, Robinson brought her back to the table by going to her house and talking to her one on one, and finally getting her star the things she wanted out of being a part of the production, which included a seat at the production table and a producer credit. But having that kind of control over her film also meant she was able to insure that those in-jokes, personal little beats, specific soundtrack, and casting choices remained a part of the story.
Ultimately, Robinson's updated take on the genre goes a long way to giving us all what we want from a modern romantic comedy: Lizzo anthems that soundtrack a story that feels real; a protagonist that doesn't look like a carbon copy of Kate Hudson (even the Andie Anderson heads); and B characters that never feel like the "sassy-sidekick" (Wise's character is a queer, black woman, navigating her first serious relationship). Robinson, knows the rom-com of the current zeitgeist can't end with Jenny choosing Nate, but herself.
Even though the movie's title Someone Great  is borrowed from an LCD Soundsystem song, its philosophy — and hers — is a little more "Thank U, Next" by Ariana Grande. "I have my own little thank you roster of like, "Thank for breaking up with me," Robinson, says to her ex, "thanks for the TV show and movie."