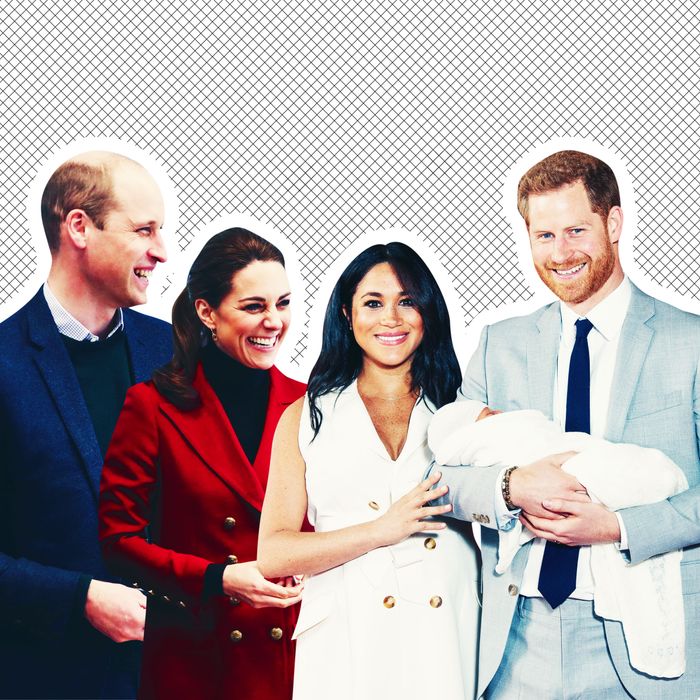 Kate Middleton, Prince William, Meghan Markle, Archie Harrison Mountbatten-Windsor, and Prince Harry.
Photo: Getty Images
Last week, Archie Harrison Mountbatten-Windsor entered this world and also the British royal family. And now, one week later (or several lifetimes for mayflies if we're being specific) the first child of Meghan Markle and Prince Harry has reportedly finally met his royal aunt and uncle, Kate Middleton and Prince William. How royal of him.
Baby Archie — who may or may not be named after the Duchess of Sussex's old cat (now deceased) or possibly his cousin Prince George — apparently met Aunt Kate and Uncle Wills (as we assume they are called) at his home of Frogmore Cottage, located on the Windsor Castle estate of course, on Tuesday. According to the Daily Mail, the meeting was a "private affair," so take from that what you will. And given just how private it was, it's unclear whether his royal cousins — including Princess Charlotte and the elusive Prince Louis — were also in attendance.
The Duke and Duchess of Cambridge aren't the first high-profile family members young Archie has met; two days after his birth, he was photographed with his great-grandparents Queen Elizabeth and Prince Philip (as well as his grandma, Doria Ragland). It's also been reported that the infant has met Lady Jane Fellowes, the late Princess Diana's sister. And while he apparently still has yet to meet Prince Charles and Camilla Parker Bowles, that formal meeting is expected to happen within the week.
So many royals to meet, so little time. (He's a baby.)