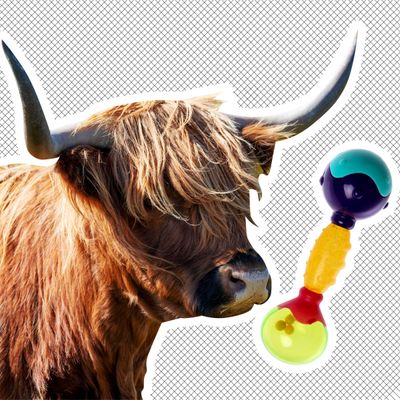 A royal Taurus.
Photo: Shutterstock
Yesterday, we welcomed into the world a new Taurus babe, whose star chart indicates he will simply adore the supremely opulent lifestyle into which he was born: The Royal Baby.
While we aren't yet in possession of that much intel about the little one, we've been able to obtain the details that matter: On May 6, at approximately 5:26 a.m., Meghan Markle (a Leo) and Prince Harry (a Virgo) welcomed into the world a 7-pound 3-ounce baby boy. With this information, we can glean the full chart for the Taurean royalty, who joins the likes of fellow bulls Queen Elizabeth, Princess Charlotte, Prince Louis. He is a Taurus sun, Gemini moon, and Taurus rising.
Because the Royal Baby is a Taurus, he will "appreciate the material luxuries" of being royalty, according to Berlin-based astrologer Randon Rosenbohm.
"With his moon in Gemini in the second house, I think this is a very intelligent baby who will spend a lot of money on things," she said. "He has Mars opposing Jupiter across his axis of personal and shared wealth, which shows that he can spend the public's money as quickly as it is taxed." (But she also noticed that he has Venus in his 12th house, indicating he "will be of service to the public life.")
Rosenbohm also believes the speculation that Meghan and Harry will give the baby an unusual name totally makes sense — it matches her prediction that with his Uranus, a quirky-rebellious planet, on the ascendant, he will have "an idiosyncratic presence."
Anne Ortelee, another renowned astrologer, too sees someone who will stand by his convictions, even if that puts him in a path of resistance. And, given that she sees him being widely read, knowledgeable of many topics, and competitive, he may even be able to enact some good change within the monarchy. (That is, when he's not preoccupied playing polo, in which Ortelee expects him to excel due to his out of bounds Mars in Gemini, which is opposite Jupiter in Sagittarius.)
Despite Ortelee's prediction that the Royal Baby will have close relationships with both his parents and Doria Ragland, though, his star chart shows the traits of someone eager to cause quite a few headaches: restless, smart but with a short attention span, and able to pick up things quickly.
"A natural storyteller, he will be quite stubborn when riled," she told the Cut, "but a witty and passionate debater."