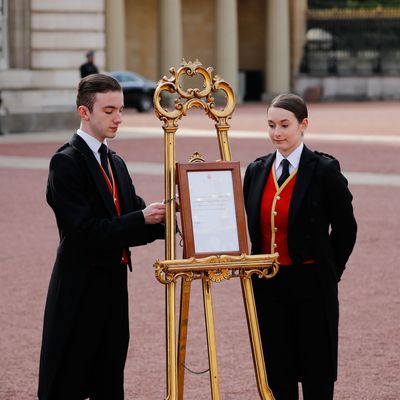 There it is.
Photo: Getty Images
If there's one thing to know about British royals, it's that their royal birth announcements involve, in part, an extremely fancy gold easel. And that's exactly what happened on Monday morning after Meghan Markle gave birth to her first royal baby — an as-yet-unnamed boy! — with Prince Harry.
It was first announced by Buckingham Palace early on Monday that Meghan had gone into labor. Later, the sex of the child — henceforth known as Baby Boy Sussex until he has a name, okay? — and additional details about the birth were revealed in an extremely Sussex way: on Instagram.
But the most important part of the announcement — outside of the press releases and social media posts — came via easel. See for yourself:
Now, I know what you're thinking: "Huh?" You're probably also thinking: "What?" And maybe also: "An … easel?" But please, let me explain. Or rather, let me please cite People:
Although royal births are now announced on social media (Harry and Meghan announced their baby's arrival on their new Instagram account!), the tradition of announcing the birth outside of Buckingham Palace on an ornate golden easel still remains.
Ah, okay, so it is a "tradition," and was also done with all three of Kate Middleton and Prince William's children (you know, Prince George, Princess Charlotte, and that elusive Prince Louis). Got it. But what exactly did this particular easel announcement say? Well, it said the following:
The Queen and the Royal Family are delighted at the news that Her Royal Highness The Duchess of Sussex was safely delivered of a son at 0526am today. Her Royal Highness and her child are both doing well.
Thanks for letting us know, easel!