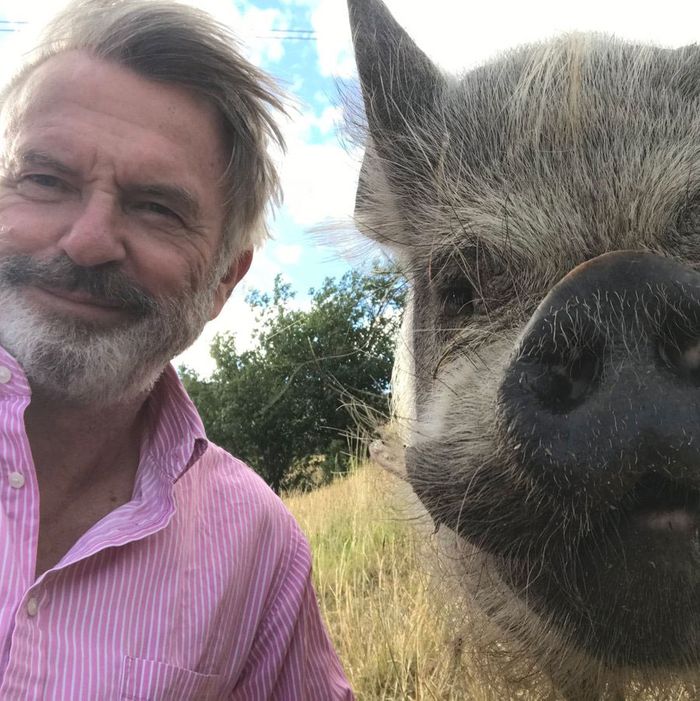 Sam Neill and his pig.
Photo: @TwoPaddocks/Twitter
Twitter is frequently very bad and very stressful. These unlikely celebrities make it better. Here, we talk to them about being Good at Twitter.
You probably know legendary actor Sam Neill for his role as a doctor in your favorite sci-fi film. Be it Dr. Alan Grant in Jurassic Park, Dr. William Weir in Event Horizon, or the mononymous Dr. Kyrie in the 2013 Sylvester Stallone thriller Escape Plan, which, for the sake of this bit, also counts.
In mid-2017, the native New Zealander was on the cusp of turning 70 and, for reasons that still aren't 100 percent clear, he began posting carefree Twitter videos of himself talking to, and sometimes frolicking with, farm animals that live on his remote New Zealand winery. (As well as acting and carousing with livestock, Neill has also been making wine since 1993. A true triple threat.)
What resulted is some of the most wholesome and soul-cleansing celebrity content on the internet. I stumbled across it for the first time last year, and ever since I've found myself returning to his feed in moments of stress like it's some sort of digital palo santo.
For a quick sampling — and I strongly recommend you bookmark these links — here's Neill:
Practicing yoga with a pig;
Leading a horse on a guided sleep meditation;
And reciting positive affirmations to a duck.
Oh, and did I mention the duck is called Charlie Pickering? In fact, many of his animals are named after famous friends, such as Susan Sarandon the sheep, Rose Byrne the Chicken, and Taika Waititi the pig.
I'm not the only one who's felt a special affinity with Neill's updates. Although he's been on Twitter since 2011, Neill's follower count has more than doubled in the last two years, and he's been described as "the only thing keeping me on Twitter right now," by BuzzFeed and, "the best possible use of Twitter," by this very website.
The Cut emailed with Neill about his Twitter presence, why it's important to keep a safe distance from the app, and why you should never trust social media consultants.
Do you remember when and why you joined Twitter?
I'm not sure. Four years ago? It was really after some pressure from the guys in the Two Paddocks [Neill's winery] office. They told me that social media was important. I'd never heard of it. I started Facebook, but I didn't like it at all. It filled me with existential dread and it was a pain in the arse. But I found I enjoyed Twitter. The economy of 140 characters was really appealing; every tweet was like a lame haiku.
When do you find yourself most compelled to tweet now?
I'm still not quite sure why I tweet exactly, except it's a good way to be in touch with people about our wine, or if I have a film project. I'm still not sure why anyone follows me.
Are there any other social platforms you've tried?
I also like Instagram, but have no idea how it works.
You follow more than 40,000 people. How do you keep up with all that?
The media "consultant" that set up [my Twitter] rather ill-advisedly told me I had to follow everyone who followed me. It was the protocol.
Have you thought about unfollowing some of them?
It's too late now. It'd be rude, not to mention time consuming.
How often do you check Twitter?
A couple of times a day. Maybe 10 or 15 minutes in total. I keep it on my computer, not on my phone. Same with my email. That way it's voluntary and I am not a slave to either.
How would you describe your Twitter feed?
I used to be a lot more political on social media. Now, not so much. So my feed is a kind of neutral place, I suppose. People use the word "pure." That sort of freaks me out.
Why did you decide to be less political?
It's not that I'm any less political. I despair about political leadership everywhere right now — with the noble exception of New Zealand. I just think there's enough shouting people already. Occasionally, my political views come out in spite of myself. That's when you become aware of some really nasty shit. Threats, abuse, you name it.
Why do you think people love videos of you and your animals so much? It's strange. I put up a shot of a friend and 36 people like it. I put up a shot of a pig and — voila — thousands of likes. I think people like [it] because so much of Twitter is people shouting at each other. And there are already enough cats.
You've said that your famous friends always give consent for you to name an animal after them. How does that conversation typically go?You just say, "would you like a pig to be called Imogen Poots?" The answer is always, "hell yeah!" Many of them then take an interest in their namesakes. Helena Bonham Carter is always keen to know if she's calved again.
What's the story behind Angelica the pig's name? You've said it's complicated.
He was called that because he was a rescue pig, and a little girl had named him Angelica already. Doesn't seem to worry him.
If you were CEO of Twitter for a day, what would you change?
I'd probably go back to 140 characters. That involved discipline. And wit.
What's harder, crafting a fine wine, or crafting a great tweet?
I am not sure if there is such a thing as a great tweet. Crafting a great wine is very, very hard. But, all modesty aside, we do it pretty regularly.
This interview has been edited and condensed for clarity.