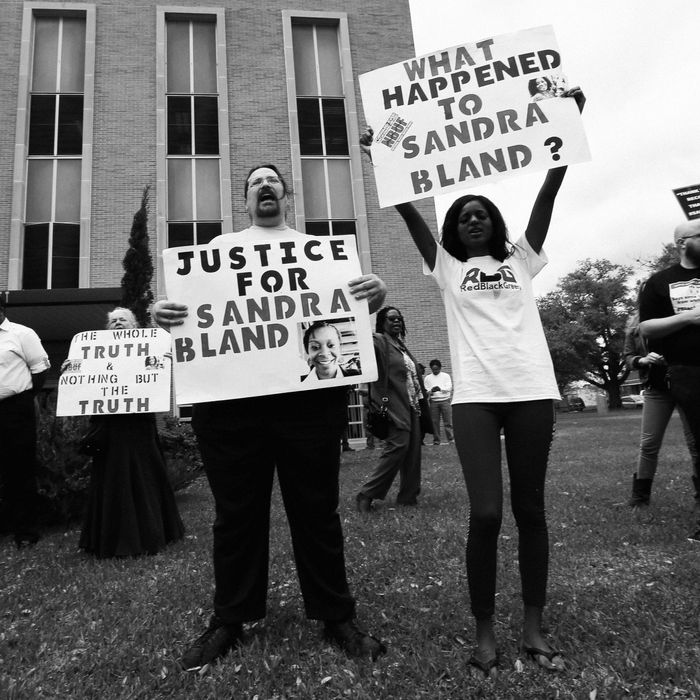 Photo: David J Phillip/AP/REX/Shutterstock
New footage from the cell phone of Sandra Bland showing the 2015 traffic stop which led to her arrest and subsequent imprisonment in Texas' Waller County jail — where she was found dead of apparent suicide, hanged in her cell, three days later — has prompted Bland's family to call for a reevaluation of her case.
On Monday WFAA published the 39-second video, which shows Texas Department of Public Safety trooper Brian Encinia yelling, "I will light you up!" while pointing a taser at Bland, a 28-year-old black woman. In the moments leading up to the altercation, Bland had been driving to the grocery store when Encinia pulled her over, ostensibly for failing to signal a lane change, and ordered her to get out of the car.
Encinia, who told authorities that he had feared for his safety during the traffic stop, was indicted on a perjury charge that was later dismissed.
The sudden appearance of the footage has prompted questions about whether it was withheld during investigations into Bland's death. Previously, the trooper's dashcam video had been the only full recording of the incident that the public knew of. The DPS said in a statement:
"The premise that the video was not produced as a part of the discovery process is wrong. A hard drive containing copies of 820 Gigabytes of data compiled by DPS from its investigation, including the dashcam videos, jail video footage and data from Sandra Bland's cell phone, was part of discovery."
But the Bland family's attorney Cannon Lambert said the video was not produced during discovery. In reaction to seeing the video when it was released to the public, Lambert reportedly said, "If they had turned it over, I would have seen it … I've not seen that."
Lambert told the New York Times that the video casts further doubt on Encinia's assertion that he was frightened and felt unsafe during the stop. "What the video shows," says Lambert, "is that Encinia had no reason to be in fear of his safety … You could see that it was a cell phone, he was looking right at it."
WFAA reports that in response to seeing the new video, Bland's sister Shante Needham said, "Open up the case, period," adding, "We know they have an extremely, extremely good cover-up system."