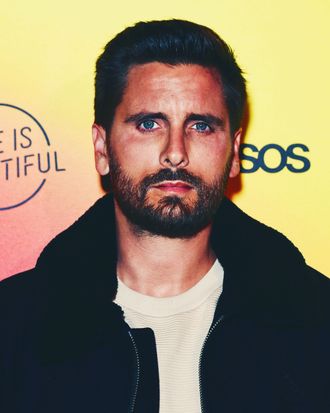 Scott Disick.
Photo: Presley Ann/Getty Images
In the ever-expanding universe of Keeping Up With the Kardashians, there are main characters, and then there are secondary characters. For the longest time, Scott Disick was the latter: Father of of Kourtney Kardashian's children, occasional butt of jokes, instigator of drama, and cause for concern. In 2016, GQ described him as a man "routinely mocked on national television for being the one without any skills in a family of people who are famous for not really having any skills."
Now, according to a new profile published by GQ on Wednesday, "times have changed." Disick, 35, is in the throes of an "unlikely reinvention." He and Kourtney are separated but co-parenting; he's going steady with the 20-year-old model Sofia Richie; he's got his own line of hoodies and T-shirts under the ironic name Talentless; and he'll soon have a new house-flipping show on E! called Flip It With Disick. More importantly, though, Scott Disick is finally "comfortable" being Scott Disick, a trait GQ describes as being the "most endearing, enviable, and mature of qualities." Lord Disick, as he once referred to himself, has apparently been brought down to Earth, although his Instagram handle remains.
This brings us to Scott Disick's shoe closet, which is revealed in all its glory in the GQ piece. Stacked on four glass shelves are 12 different variations on the same sand-colored Chelsea boot. There are slip-on Chelsea boots, and lace-up Chelsea boots. Belted Chelsea boots, and one pair of leopard-print Chelsea boots. All have been worn at varying degrees, some scuffed and sagging with use. A mirror situated at the back of the closet reflects the boots ad infinitum, like a Yayoi Kusama study on the 35-year-old Caucasian-American male.
As I bitterly tweeted on Wednesday, Scott Disick's shoe closet looks like a museum of Raya profiles, a reference to the members-only dating app that I pined over for years, never found a match on, and then deleted in a fit of rage. From where I was sitting, each Chelsea boot read as a tangible representation of a certain edgy-bro archetype, a guy who seems to share my interest in fashion but is probably totally emotionally unavailable except to his pet pit bull. I've swiped left on so many of these guys through the years.
This is, without a doubt, a bias and stereotype on my part, mostly against the Chelsea boots that have personally spurned me. But I'm not alone, and the tweets (below) prove it. Chelsea boots have developed a reputation for housing the feet of men who will invite you to enjoy their bottle service at the club, whisper in your ear about Sally Rooney, and never text you back. They are the official shoe of a man who quit his job in finance to enroll in James Franco's acting school. They think being themselves is nonconformist, and tend to profit off their alleged nonconformity. They say things like: "We must be doing something right," which is the motto for Talentless.
Scott Disick has come a long way since he first debuted in Keeping Up With the Kardashians in 2007. But as this picture proves, his taste in shoes has not changed.