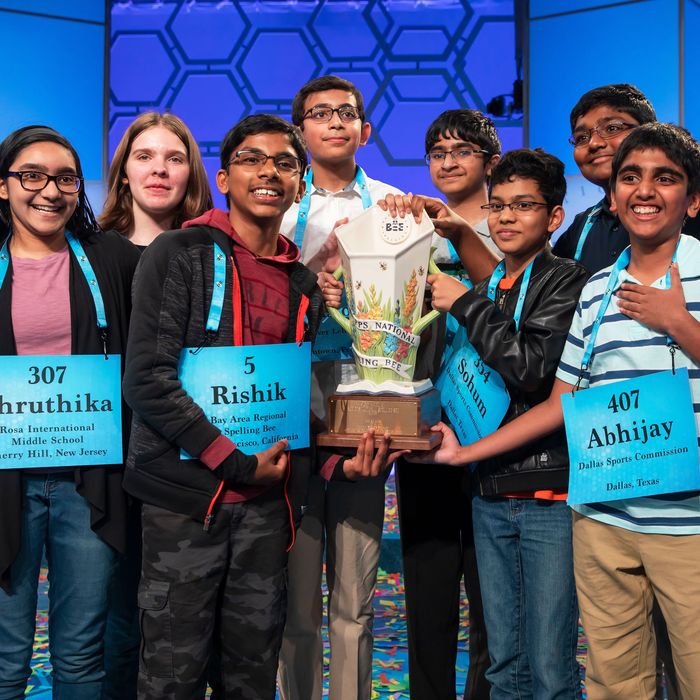 The eight co-winners!
Photo: ERIK S LESSER/EPA-EFE/REX/Shutterstock
Hello, and welcome to this blog. I don't know anything about you, but I assume you know a decent amount about yourself — your name, your height, your favorite dog breed (adopt don't shop!). But can you say confidently whether or not you were one of the winners of the Scripps National Spelling Bee last night? Hmm. Probably not.
Last night, for the first time in its 94-year history, the Scripps National Spelling Bee named not one, not two, but eight co-winners, all between the ages of 12 and 14, who called themselves the "Octo-Champs."
Rishik Gandhasri (winning word: auslaut), Erin Howard (winning word: erysipelas), Abhijay Kodali (winning word: palama), Shruthika Padhy (winning word: aiguillette), Rohan Raja (winning word: odylic), Christopher Serrao (winning word: cernuous), Sohum Sukhatankar (winning word: pendeloque), and Saketh Sundar (winning word: bougainvillea) all made it through five consecutive perfect rounds, spelling all of the final 47 words correctly. Each of them received $50,000 in prize money, and a Scripps Cup. Wow, I'm so proud of them, and you, if you are one of them.
Thursday night's competition lasted 20 rounds. The decision to allow up to eight winners (as opposed to the maximum of three currently dictated in the rules) was made after round 17, when spelling bee pronouncer Jacques Bailly told them, "Champion spellers, we are now in uncharted territory." He explained, "We do have plenty of words remaining on our list. But we will soon run out of words that will possibly challenge you, the most phenomenal collection of super spellers in the history of this competition."
Not everyone was thrilled with the decision. Rahul Walia, founder of the South Asian Spelling Bee, told ESPN that this would never happen at his bee. "They need to use harder words. The words are available."
Congrats to all of the many winners, of which you may be one, just try to remember what you were doing last night. Given that there are roughly 372 million people in the U.S., and 8 of them won the spelling bee last night, there is a 1 in 46,500,000 chance you may be an Octo-Champ! Yay for you!