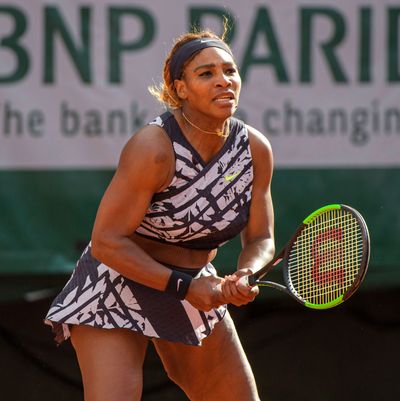 Photo: Stephen Bartholomew/IPS/REX/Shutterstock
Coming off last year's controversial (to the French) breathable Nike catsuit and a bunch of sartorially bold outfits in recent matches, Serena Williams has again showed up on court in tennis finery befitting a queen.
On Monday, the 23-time Grand Slam champion arrived at her first match of the French Open wearing a custom-made look by Off-While's Virgil Abloh for Nike. The two-piece outfit Williams played in was accompanied by a matching cape emblazoned with the words "Mother, Champion, Queen, Goddess" in French. Williams also wore neon-yellow Nike Air Force One sneakers designed by Abloh.
In a post-match interview with the Tennis Channel, Williams said, "It's the second time [Abloh and I] worked together. It has words in it in French. It talks about me being a mom and me being a queen, as all women are. A champion. It's positive reinforcement for me, and I kind of love that."
Williams showed up to win, though it took her three sets to beat her first-round opponent, Russia's Vitalia Diatchenko.
In an interview with Reuters, Williams suggested she wore last year's catsuit not just as a fashion statement but also to help prevent blood clots, which she'd been experiencing after giving birth to her daughter in 2017. Nevertheless, the garment prompted French Tennis Federation president Bernard Giudicellli to announce he'd be updating the dress code to ban catsuits because "I think that sometimes we've gone too far … One must respect the game and the place."
I, for one, absolutely respect Serena Williams's spandex game.