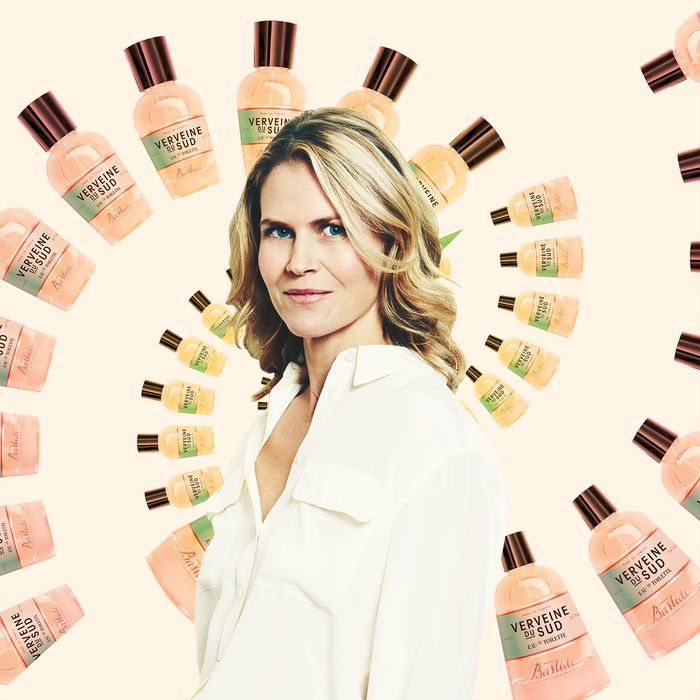 Call it the Proust effect: Memories are often triggered by smells. Scientific studies confirm that, of all the senses, smell offers the best recall. In Scent Memories, the Cut asks people about the scents they associate with different times in their lives. Next up is Shirin von Wulffen, co-founder of Bastide, a clean, non-toxic lifestyle and beauty brand that she heads up with her husband, renowned hairstylist Frédéric Fekkai. Together, the pair work with local artisans in Aix-en-Provence to create unique and safe fragrances across candles, body products, and perfumes. The brand recently launched their newest eau de toilette Verveine du Sud, a bright and clean citrus scent that smells like summer. The Cut talked to von Wullfen about Sardinia, cookies, and eating honeysuckle.
My first scent memory is: My grandmother's house. She lived in Westphalia in Germany and I just remember that house having a very specific smell that I can't exactly pinpoint. It's old — it was built in the '40s — so, its kind of a musky smell. She also had dogs and horses, and a ton of rubber boots, so it smelled almost like a tack room. She also always had flowers; it was a beautiful smell. Sometimes you walk into a house and you feel history, and it had that smell of history.
Happiness smells like: Dreamsicles. I grew up in Gordonsville, Virginia, and we used to have ice cream days on Fridays, and I always remember having Dreamsicles.
Love smells like: The napes of my children's necks. But the other kind of love, the more passionate love, smells more salty.
Friendship smells like: Honeysuckle. That's another Virginia memory. You know how you can pull out the center of honeysuckle and eat it? The nectar is really sweet and it's not poisonous. I remember just hanging out with friends; we were outside a ton, we didn't watch TV. We had so much time and we'd always find something to keep ourselves busy, and we'd eat honeysuckle.
Heartbreak or loss smells like: Rain. There's always a sadness to it, and that rain smell is always a bit melancholy. I've learned to feel that sadness is something that you just have to feel fully, and then it's okay. If you accept the rain, then it doesn't bother you. But if you're like Oh no my hair's going to get messed up, then it's going to be a problem. Just like you need some rain so the flowers can grow, you need to let sadness happen so you can feel better.
Regret smells like: French fries. Cold, soggy french fries that are at the bottom of the bag.
Success smells like: A beautiful spring day where it's not too hot, not too cold, and there's a bit of a breeze. It's the weather that makes you feel like skipping because your heart's jumping because it's so excited that it's so beautiful out. That's the same feeling I have when I feel success.
A pleasant surprise smells like: My mother's homemade Christmas cookies. My parents are German and we'd have a long walk home because we lived on a farm in Virginia, and when we'd walk into the house, the entire house would smell like cookies for all of December.
The worst smell is: The tar of New York City when it starts to melt in the summer when it gets hot and your heels press into the sidewalks and leave marks.
Vacation smells like: Comptoir Sud Pacifique Aqua Motu. They have it in all the rooms at Hotel Cala di Volpe in Sardinia. For some reason, now that smells like summer to me after being in that location, being on the water, and smelling that scent.
Sunday morning smells like: Pancakes, toasted muffins, and coffee.
Monday morning smells like: Exhaust fumes, trash trucks, and being back in the mix. The weekends are country, and Mondays are traffic and gasoline. We usually scoot to school on our scooters in the middle of everything.
My home smells like: Amber. We have a beautiful Amber candle that we burn a lot that has a warm, spicy, musky smell.
If I could have one smell on my hands forever, it would it be: Nothing. I'm actually quite sensitive to smell so I've never liked anything in my hand cream or anything like that. I guess my kids' smell is always something I could smell, because that's so pure. I never like when my kids smell like anything. They just have to smell like themselves!
I smell like: Right now, our amazing new fragrance called Verveine du Sud, which is inspired by Provence. We have this beautiful old house in Frédéric's hometown Aix, and there are beautiful waters around it and verveine and lemon trees in the garden. But it also has this woody undertone, so it's a very sexy, summer scent. It's amazing because Frédéric wears it and I wear it so I'm kind of crazy about that at the moment. I'm ready for summer.
If you buy something through our links, New York may earn an affiliate commission.