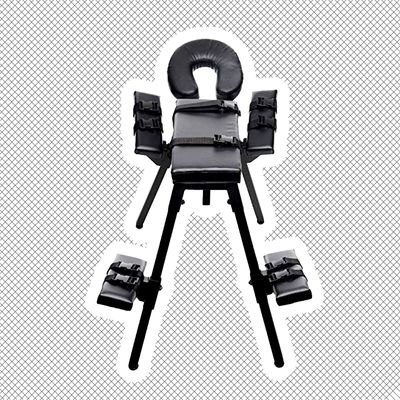 Master Series Obedience Extreme Sex Bench with Restraint Straps.
Photo: Amazon
It seems as though Cara Delevingne and her girlfriend Ashley Benson have officially reached the most touching of relationship milestones: the joint purchase of a sex bench.
On May 28, the Daily Mail photographed the couple of a year-plus lugging into their West Hollywood home a large box containing the $385 Master Series Obedience Extreme Sex Bench with Restraint Straps, what the manufacturer describes as a "heavy duty piece of sex furniture" that will allow you to go "deeper than ever before!" The girlfriends looked indisputably overjoyed with their purchase; as the Mail notes, they were "giggling."
And yet, we couldn't help but wonder: Did they pick the best sex bench? Would Delevingne, who says she's "very good at giving love," find it sturdy enough for her liking? Thus, we decided to check the Amazon reviews, which happened to be quite mixed in enthusiasm.
The highest-ranked review came from someone identified as "Jennifer B.," who wrote that the "sturdy bench" will "last years." However, she notes — as do many other reviewers — that this bench would probably be too small for anyone over the height of five-foot-seven. At the end of the day, Jennifer gave the bench a glowing review: five stars.
Many other Amazon users, though, were less than thrilled. In a one-star review, user "DR Ovenbird" — who owns both the bench and the accompanying Dicktator Extreme sex toy, which is optional with purchase and costs an additional $55 — aired their many grievances with their purchase, in particular the sex-toy accessory. "I had high hopes for the sex machine based on the sex bench," the user wrote, adding that they were disappointed to find the remote too "touchy" and "the slowest thrusting" to still be "WAY too fast." In the review, they came to one disappointing, inevitable conclusion: "Since Amazon won't refund this kind of item, you're pretty much screwed when (not if) you don't like it."
So, for those over the height of five-foot-seven, or uninterested in what Master Series's sex bench had to offer, we checked out other alternative sex furniture on Amazon. Before you know it, you'll be referring to sex as "play."
Shop the Story
Cara Delevingne and Ashley Benson's pick.
For enjoying "effortless interest in any position."
Amazon's best-selling sex swing.
Comes with a "fun" sex die.
If you buy something through our links, New York may earn an affiliate commission.