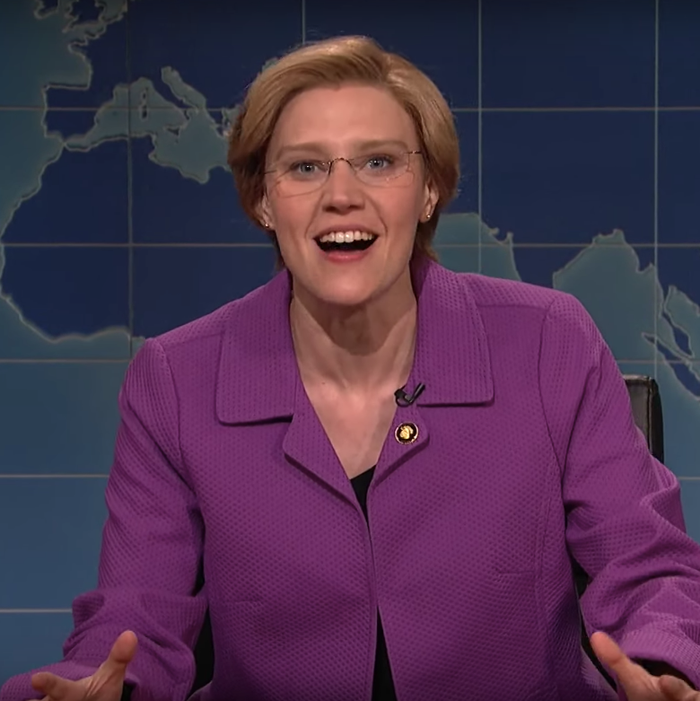 Kate McKinnon as Elizabeth Warren.
Photo: Screencap/
Senator Elizabeth Warren is rolling out many policy proposals as part of her 2020 presidential campaign. She's got plans for improving maternal health, forgiving student-loan debt, and universal child care. Meanwhile, the other Democrats who have announced that they're running for president have been a bit policy-light in their campaigning.
The differences between Senator Warren's campaign and those of Joe Biden, Beto O'Rourke, and Pete Buttigieg have not gone unnoticed by Warren (Kate McKinnon). So she stopped by Saturday Night Live's "Weekend Update" desk to discuss her student-loan-debt-forgiveness plan and bestow some new nicknames upon her fellow Democrats.
"I guess I'm setting myself apart from the other candidates by saying what I'm gonna do and how I'm gonna do it. Whoa! What a crackpot idea," SNL's Warren exclaimed.
"Do you think that your proposals are going to set you apart from the other candidates?" Colin Jost asked her.
"Yeah, I sure do hope so. Look, Colin, I mean what a frickin' clown car I've found myself in," McKinnon's Warren responds, exasperated. "I'm working around the clock to give you free college, but oh, looky there, Beto O'Dork did parkour in a Starbucks! Whoops, I just figured out universal pre-K, but what's that over there? Mayor Pete Buju-gee-juts playing piano and speaking fluent Klingon!"
But the best nickname was given to Warren's longtime colleague and former vice-president Joe Biden, who has been accused of inappropriate touching by eight women.
"Everybody make room for good ol' Joe, the Amtrak Masseuse," SNL's Warren said, grabbing Jost's shoulders and rubbing them aggressively. "What a hero he his! Look — if I lose, I am still gonna be fighting in the U.S. Senate. And where will old Joe be?"
Watch the full clip below.