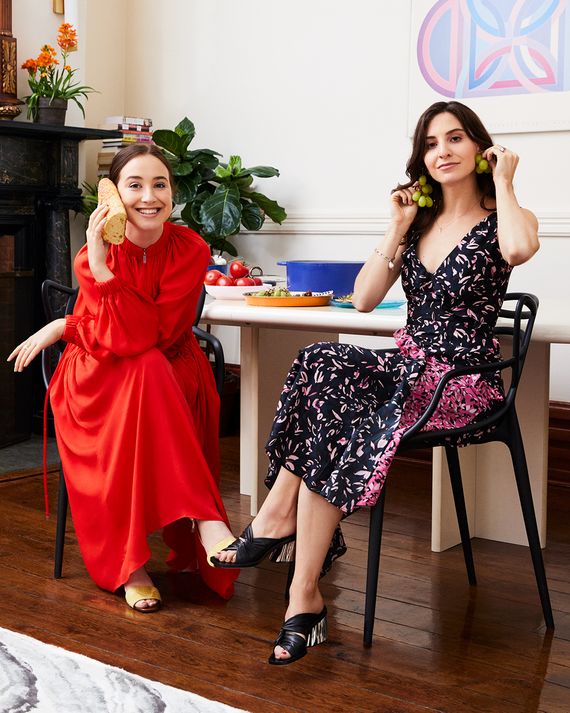 At the Cut, we're obsessed with how accomplished, enviable women make their real lives work. So when we recently checked in with two New York alums — Sierra Tishgart, former Grub Street senior editor and current cofounder of Great Jones; and Emily Sundberg, former Instagram editor for the Cut and currently the cool-kid cookware company's social media manager — we wanted to know the real story behind the parts of their lives that seem, from the outside, stylish, interesting, and fun.
True to their New York roots, Tishgart and Sundberg balance the aspirational and the pragmatic with humor, thoughtfulness, and by not taking things too seriously. Read on for their "secrets" for cultivating great style — as demonstrated by the THEOUTNET.COM looks they wore when we visited Tishgart's West Village apartment — throwing a chill dinner party, and building a brand that's cool in an approachable, gut-feeling kind of way.
Let's talk about your personal style. How do you dress as dynamically and as well as you do for everything going on in your schedules?
Sierra Tishgart: My life now through Great Jones is much more public-facing than it was when I was writing for a magazine day-to-day. So I see it as a nice opportunity to put more time and energy and creativity into what I'm wearing. Our brand is really colorful and that's inspired me to embrace color and patterns and joy in my dressing in an even larger way than before.
Emily Sundberg: I love to add a strong, colorful top to a really comfy pair of jeans. I'll throw on a neon shirt or any sort of bright, pop-y top and toss a pair of heels in my bag. I'm moving around a lot during the day, so a dress is something I can just take out of my closet and get to where I need to go. And it can be versatile enough for the office and maybe a shoot and then a party at night.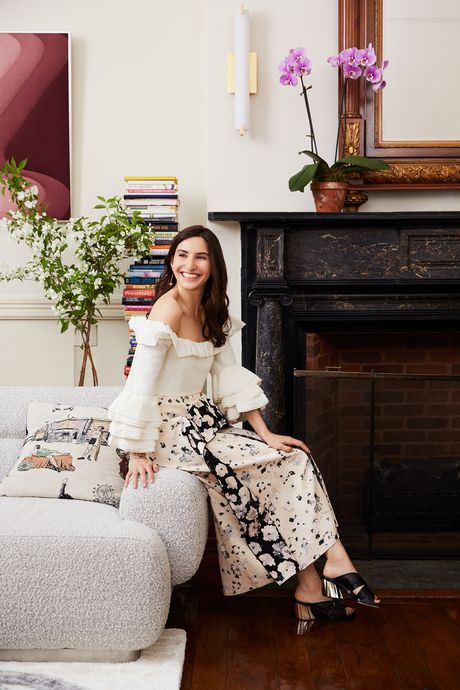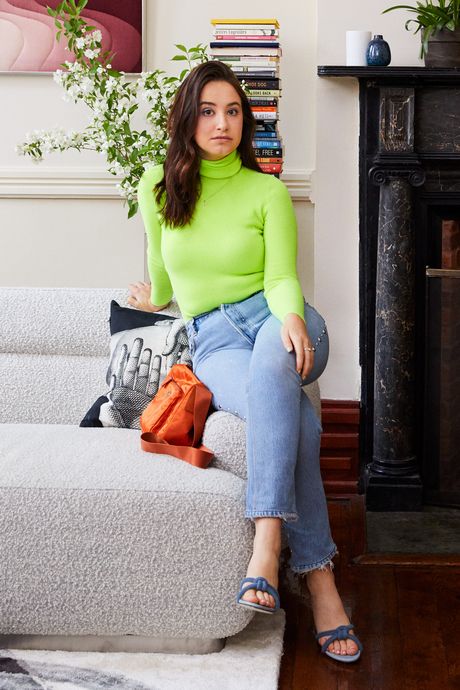 You're in an industry that's very closely related to food. Do you both cook a lot?
ST: Yes! Something we talk about a lot at Great Jones is that there's so much value in cooking at all, and that can take on a lot of forms. That doesn't mean it looks perfect or it's this massive, impressive feast. It could be making an omelette when I'm tired after work, or I love this butcher shop near me and make a lot of pasta and sausage and whatever I have in the fridge thrown in. So I cook very frequently now, but it's not necessarily fancy or thought out. We really want to strip the pressure away from feeling like cooking is only something that chefs can do.
ES: We also have a new kitchen in our office, which has been a nice little break at the end of or in the middle of the day, to talk to one another as a group of women that work together instead of just talking about work stuff. Food brings up different conversations with people, so it's been a great dynamic to be able to cook with each other during the day.
Do you have any go-to dishes or tricks that motivate you to cook more?
ST: I'm busier than ever before, so I value cooking that doesn't feel stressful. Finding ways to use fewer dishes can really take away the barrier of, "I'm tired, it's a weeknight." What's nice about our cookware is that we designed it so you can serve in it as well as cook in it. Having things be very simple and straightforward really motivates me — minimizing the clutter in my kitchen, using very little tools, and even very few ingredients to make something special. I love a one-pot pasta, or when I can figure out how to roast a chicken with tons of vegetables and bread to soak up all the juices in our Dutch oven.
ES: I get obsessive about people's favorite recipes and try to make them for them, as a way to show love. That's really big for me. Or I take a longer recipe that's more of a process and use that as an opportunity to meditate almost, to take a few hours to make a really intense cake with, like, all these flavored butters that you melt down in a saucepan. I've been doing a lot of those lately. It's a way for me to check out and just focus on a process.
Do you do any entertaining? How do you approach it in a way that feels doable?
ST: I recently moved into this apartment, and for the first time in my New York life I've had room for a dining room table. So hosting now is really fun and something I want to do more of. There's a lot of pressure in being like, "I'm going to cook for 10 people," but there are so many ways to entertain. Often I'll have people over for drinks and snacks and then we all go out. I'll make popcorn in a Dutch oven and we'll put out some great cheeses and snacks, and just bring people together around food in my home. Nothing feels better than that. I also have a lot of people over for breakfast on weekends now.
ES: I currently live in a very tiny apartment that I share with two guys, which is very interesting. I have friends over a lot and we all just sort of cram in and I say, "Bring what you can." We've been making a lot of pastas in the Dutchess — my roommate Jack will make it on Sunday night, and it's so big we eat right out of it. I never really did that before as a "thing," but now that I have this big servingware, it's really fun to do.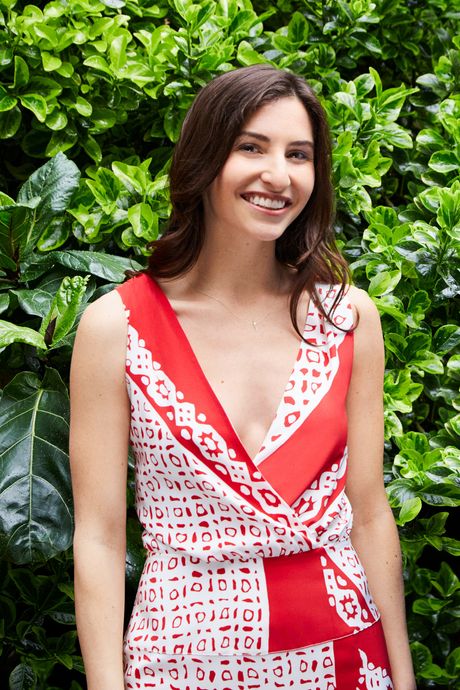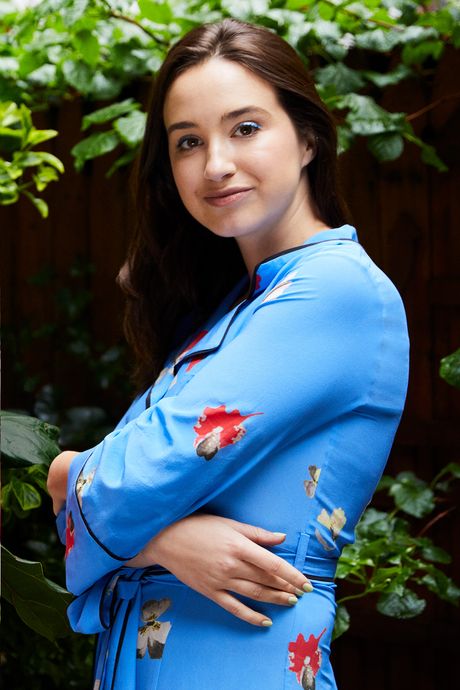 Do you have any ways of making even those low-key kinds of gatherings feel festive?
ES: Flowers always add a bit of brightness. And I like things that start conversations, whether it's a weird ingredient from the farmers' market or a cool, different kind of wine.
ST: One of my more successful recent dinner parties was because it was interactive. A friend had come over prior and said, "Oh, you guys have kitchen space, I would love to make my family's dumpling recipe here." There were eight of us all folding them together, and then some people were just drinking. Having that group activity was so enjoyable, and it wasn't like, "Oh my god, I have to cook for 10 people."
ES: Sierra also had a party recently that was desserts and drinks. It was late at night, and all you had to do was bring a dessert or a drink, and everyone in the room was so happy because they were buzzed or buzzing on sugar. It was unexpected and great.
This apartment must be great for a party. It's so welcoming and beautifully put-together. How did you tackle decorating this space, Sierra?
ST: I've always been in small studios, so I decided to start from scratch here. I'd never really thought about my adult sense of home style. In designing Great Jones products this year, we thought a lot about the homes and kitchens that really inspire us. I was pretty overwhelmed because it was my first time [designing a home]. I'm very fortunate to have a friend, Jen Levy, who is wonderful at finding vintage furniture. We both love going deep on auction sites or sellers on social media to find one-of-a-kind stuff. My overall inspiration is mid-century Italian furniture with really interesting shapes and textures.
That eye for design shows through in the creative work you're putting out with Great Jones. As a small, still-new team, how have you found confidence in your direction?
ES: We're both pretty knowledgeable consumers that have worked in media and food before, so if there's a feeling we get that it's fresh and new and we're not basing it off of other brands — that we're basing it off of archival photo research, or seeing a gap in the marketplace, or having an emotional response to photography that we've never seen in consumer goods but that we'd like to see — [that's telling]. There's no reason why there shouldn't be a shoot produced by a consumer goods brand that's just as good as a fashion shoot in a magazine. So it's taking risks and putting them out into the world and gauging how they do. And it's been working really well for us. We have a lot of really smart people in our office that are honest about feedback, and that's been great, too.
ST: When it was just [my cofounder] Maddy [Moelis] and I, it felt very self-oriented and just, like, our taste. We're really grateful to be building our team and to be drawing inspiration from everyone. A lot of our shoots are inspired by something Emily posts on social and I'm like, "I love that retro photograph!" That sense of discovery and collaboration is everything. If something excites us, we try not to overthink it. If we both feel giddy over an idea, we run with that. While that can create some impostor syndrome and insecurity, there's such freedom to be like, "You know what, we're doing this 'cause it makes us happy." When it comes to creative vision, I hope we always retain that.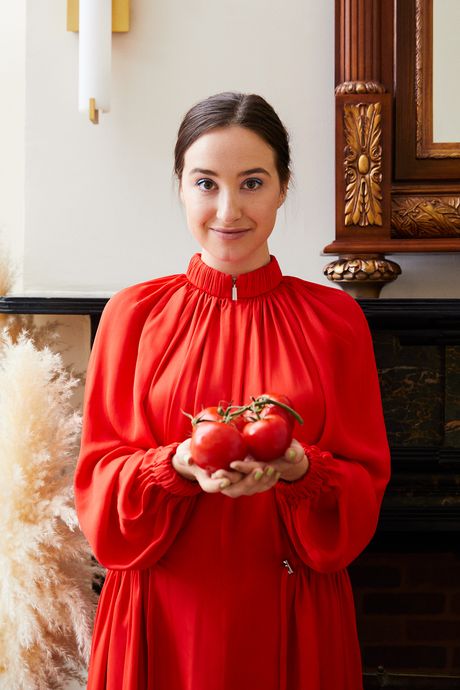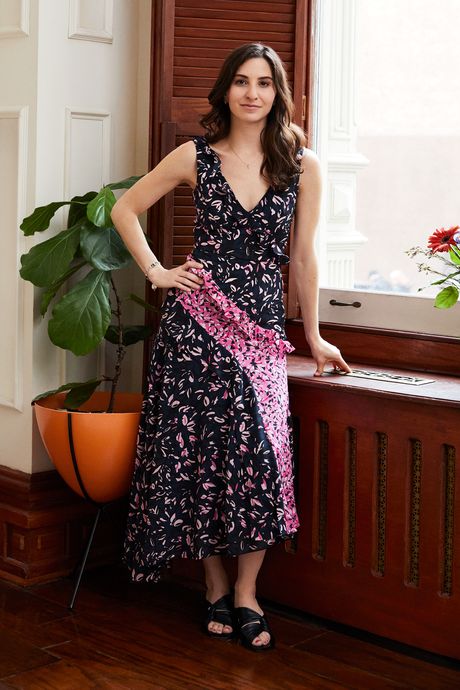 You're colleagues but you're also friends. We're in a culture now where social flakiness has become the norm. How do you foster friendships that thrive?
ES: We have the opposite thing in our office, where we're always hoping people cancel plans. For me, it's learning to say no earlier to things I don't want to do or that might be a squeeze in times when I do have time for laundry and getting in a run or a workout class. It's also valuing friendships that feel sincere and not just based on existing for awhile or ulterior motives. Everybody's so busy. We talk about this a lot in the office, learning to say no to plans you kind of don't want to do. I don't have time for that — we have stuff that goes on really early in the morning or late at night, and my focus right now is on my work.
ST: Automation has been really helpful for me. I have a friend in San Francisco who reached out and said, "Hey, I know you've had a lot going on, but I feel like I'm only reaching out to you." In a lot of my life this year, I've been playing defense. It's hard for me to initiate. And I really took that to heart and was like, "You're right." So on Mondays, we set up a calendar invite. It's not the sexiest thing, but we have a weekly call and it's just like, sometime tonight, we talk. I really make sure I stand by that. Similarly, I have a group of friends and we have a monthly dinner at one of our homes. At the end of each dinner, we pick a date for the next one. When I make plans, I stick to it. I definitely feel free to opt out, but when there's something on the calendar, I don't ask myself, "Should I cancel? Should I go?" Because when I make plans with good intentions, I always enjoy that time.
This is paid content produced for an advertiser by New York Stories. The editorial staff of The Cut did not play a role in its creation.