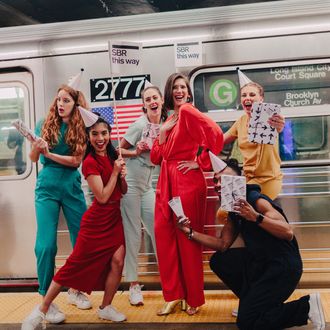 Uli Beutter Cohen and five dancers.
Photo: Bridget Badore
Something curious happened on the New York City subway on Wednesday night: At 7 p.m., about 50 people flooded the G train singing, dancing, and giving out free books to unsuspecting New Yorkers. It was a surprise party, more specifically a party celebrating books and the five-year anniversary of a popular Instagram account for booklovers. On a line that's usually pretty quiet at 7 p.m. on a weeknight, in a post-rush-hour flux, dancers in rainbow-colored outfits grooved to classics like "Celebration" by Kool & the Gang, wore party hats, and handed out books wrapped in black-and-white paper.
Yes, commuters looked confused. But this was Uli Beutter Cohen's dream. She's the founder of Subway Book Review, an Instagram account with 112,000 followers. It's like Humans of New York, but for book reviews. She stops people with books on the subway, photographs them, and asks what they're reading and why. The result is a mix of touching stories and author recommendations. Since starting the account in New York City in 2014, she's expanded the project to D.C., Mexico City, and Berlin. On the phone a few days before the party, she explained she was terrified of taking the subway when she moved to the city, but now it's her favorite thing about living in New York. Especially the G train, she says: "It's the underdog, and I think it has the cutest face and personality."
Her rosy view of the subway is a refreshing contrast to New Yorkers' usual attitude toward the MTA — and talent for ignoring even the most unusual disruptions. On Wednesday night, Cohen led a pack of volunteers onto one G train car. Holding a microphone and speaker, she passed Olivia McLean, who sat on her commute reading Liane Moriarty's Truly Madly Guilty. "I'm confused," McLean said. "Not against it! But confused." She took a book from one of the volunteers.
Eight stops later, at Bergen Street, the party moved from the subway to a nearby Warby Parker store in Cobble Hill, where guests snacked on charcuterie, Ample Hills ice cream, and Ovenly cookies. As party favors, they picked up free copies of books like Patti Smith's M Train and I Might Regret This by Broad City star Abbi Jacobson, who stopped by to sign books. But the question still remained — if you could have a fun backyard party in Cobble Hill, why throw it on the subway? "We love to hate the subway, but I think it's our real melting pot," Cohen said. "New York is known to be the city where dreams can come true and as a New Yorker, it's my obligation to create as much magic as I can and to share it." If only the MTA were so optimistic.