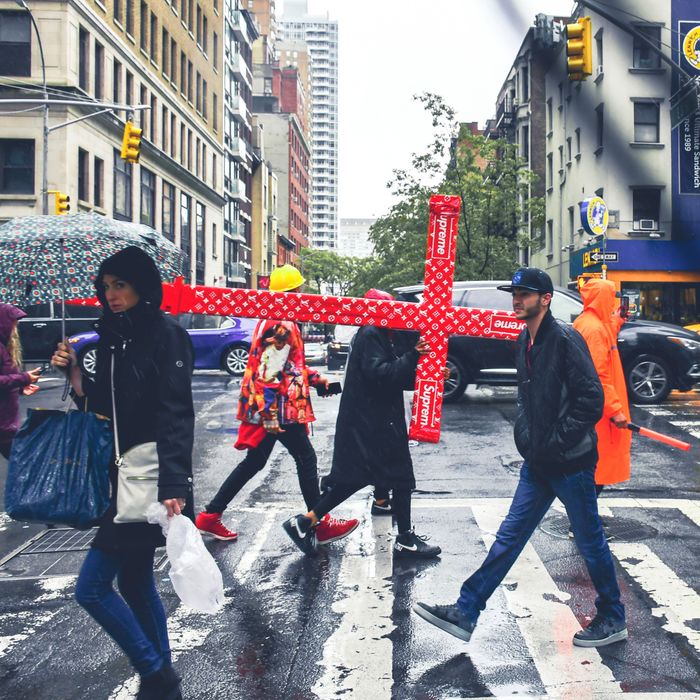 Photo: Courtesy Minam Kim
The streetwear brand Supreme is known for inspiring rabid devotion in its followers, but there are limits. This past Sunday, fans of the brand were invited to gather outside Dover Street Market, a high-end boutique on Lexington Avenue in Manhattan, and walk some 40 blocks downtown to Soho. The event was billed as "the first inaugural march of Supreme fans in New York City," timed to Supreme's 25th anniversary. All attendees were instructed to "WEAR SUPREME OR GETTHEF**KOUT." But it was cold, and raining, and it was Mother's Day. In the end, only nine people showed up, one of them carrying a Supreme-branded cross like some kind of hypebeast Jesus.
The march was organized — in a semi-ironic, provocative spirit — by the South Korean mixed-media artist Ho Chul Lee, who goes by Jason. The week before it kicked off, Jason sent an invitation to just about every fashion writer and editor I follow on Twitter, most of whom responded with a kind of baffled disdain. This was perhaps understandable, as the email contained a graphic, by Jason, of male genitals festooned with the Supreme logo and the Louis Vuitton logo — a commentary on last year's wildly popular cross-pollination.
There was so much happening in this email, I failed to notice the part about Jason's upcoming street performance, "Supreme Jesus." Or maybe I read that and thought it sounded totally normal in context. Regardless, Jason showed up to Dover Street Market with an actual cross, which he made with plastic pipes he bought at Home Depot and covered with Supreme x Louis Vuitton branding he printed at home. He said it weighed about five kilos, or 11 pounds, and was "light enough for any woman to carry."
In fact, a model named Chiara Charles did carry the cross. She also spent some period of time being carried on it, Jesus-style, clad in matching black Supreme leggings and a sports bra. When the Cut reached out to Charles, she said she "supports" Jason's art, and has worked with him "for a long time." According to Jason, he thought the familiar religious image would be the "easiest way to explain Supreme's impact on our youth today."
Eventually, issues of "security" (per Jason) and timing forced the group to go underground to the subway. The cross came with them, recalling a recent viral video of a man trying to bring an I-beam onto a train.
By the time the parade made it to Supreme on Bowery, it was 5 p.m. and only three people remained. But Jason still retained his sense of purpose when we exchanged emails on Monday. "I truly believe that Supreme is above and beyond a religion at this point in time," he wrote through his publicist, who helped translate. "Worshiping Supreme is similar to worshiping a God in that having Supreme means you have become the chosen one. It's different because you can spend a lot of money to buy a limited item, but as religion goes, [you still] may not be able to get what you want."
As a thriving global community, streetwear obviously can't be represented entirely by nine damp New Yorkers. (In fact, the "Supreme Walk" has faced mostly negative comments since Sunday.) But Jason does seem to be onto something with his juxtaposition between religion and consumption. As mega-celebrities like the Kardashians have embraced a very public form of Christianity, material goods have become a tangible part of the church experience, and a bridge between them and their followers.
You can get a face tattoo from Bieber's spiritual ink guy; you can buy the same Hillsong sweatshirt Selena Gomez wore; and you can get the same Yeezy-style "church merch" that Kim Kardashian West wears to her husband's weekly Sunday Service gatherings in Calabasas. (As well as her new sunglasses collaboration, which she also wears.) Hillsong pastor and Bieber-whisperer Carl Lentz has even been known to wear Louis Vuitton x Supreme, spawning the term "hype priest." As a result, the lines between buying into a community and being an active member of one are arguably blurred, and the rush of spending money is confused with a religious high.
After Kanye West's Sunday Service at Coachella, I messaged various users on Grailed, a popular resale sight where West's Yeezy-like merch was being flipped. One described the experience as "beautiful," "exciting," and "spiritual." Others were more cynical — one seller told me that I should buy the "Holy Spirit" sweatshirt, which he ultimately sold for $520, "to get the full experience." When I asked him if buying it would bring me closer to God, he said, "Absolutely."
Jason legitimately seems to be a devout follower of Supreme, but he also seemed to want to make a statement about the absurdity of hype culture. He can see the "good and bad" of being "Supremified," as he told the Cut. He doesn't consider the first "Supreme Walk" a successful experience, but it was perhaps a humbling one. If there's one thing humans (and their "jawnz") are powerless to overcome, it's a little bit of rainy weather.