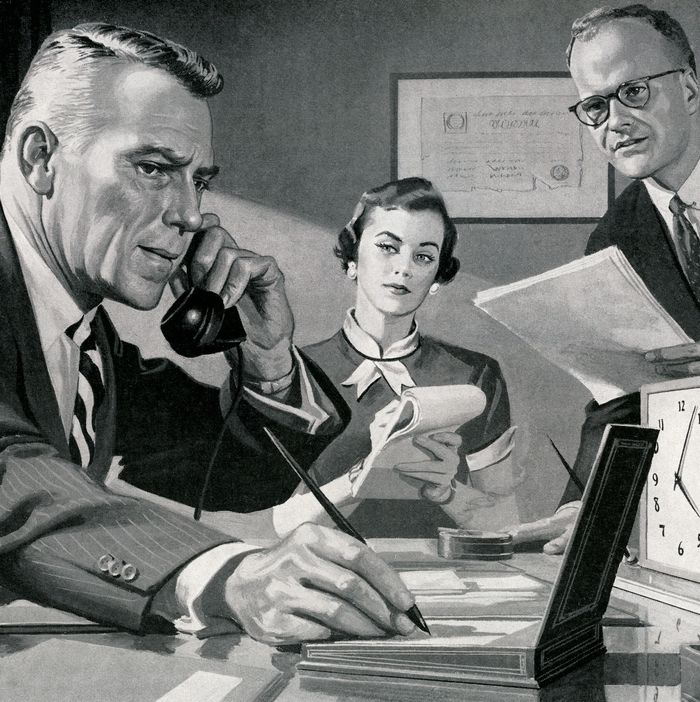 Cool: Men are reportedly becoming more and more afraid of women in the working place.
Photo: GraphicaArtis/Getty Images
Over the past two years, the people who perpetually find themselves on the receiving end of gender-based harassment have stepped up to publicly explain just how bad that has been for them, how broadly detrimental it has been in so many different areas of their lives. This has led some men to look deep within their hearts to figure out how not to harass the women in their offices. Wall Street's creative solution to this puzzle was, according to one report, to minimize the "unknown risk" of women in the workplace by simply not hiring them, and avoiding unsupervised interaction in the cases where, I don't know, equal opportunity laws made that impossible.
You'll be charmed, I'm sure, to learn that the Wall Street maneuver continues to gain traction outside the finance industry: According to a new survey of 5,000 working humans, conducted by SurveyMonkey and Sheryl Sandberg's LeanIn.org, "A full 60 percent of male managers say they are uncomfortable engaging in common workplace interactions with women, including mentoring, socializing, and having one-on-one meetings." And! That camp has grown by 14 percent in the last year.
Unfortunately, men still hold most leadership positions, and it will stay that way if the people at the top continue to bring up male underlings, while simultaneously benching women at business events. Indeed, the survey highlighted an unwelcome Pence-ian trend: Men in senior positions seem to be latching onto the idea that certain professional obligations — having a business dinner in a restaurant, for example, or a drink at a bar — implied heightened opportunity for scandal. In 2019, 48 percent of male managers said "they were uncomfortable socializing with a woman outside of work," versus 34 percent in 2018. Further, just over a third of these men have taken active steps to avoid one-on-one interaction with the women in their office, outside business hours.
This "solution" is particularly absurd when you consider the fact that just 16 percent of participants thought "high-performing" people who harass their peers receive adequate punishment. And though more than two thirds of respondents said their employers had implemented anti-harassment measures, and most of that group believed those efforts to be meaningful, one wonders how effective they can be if the majority of men-in-charge feel the best way to avoid harassing someone is to simply stop being around them. Maybe the thing to do is not to hide from women but to actually listen when they ask for basic respect? A wild concept, I know.