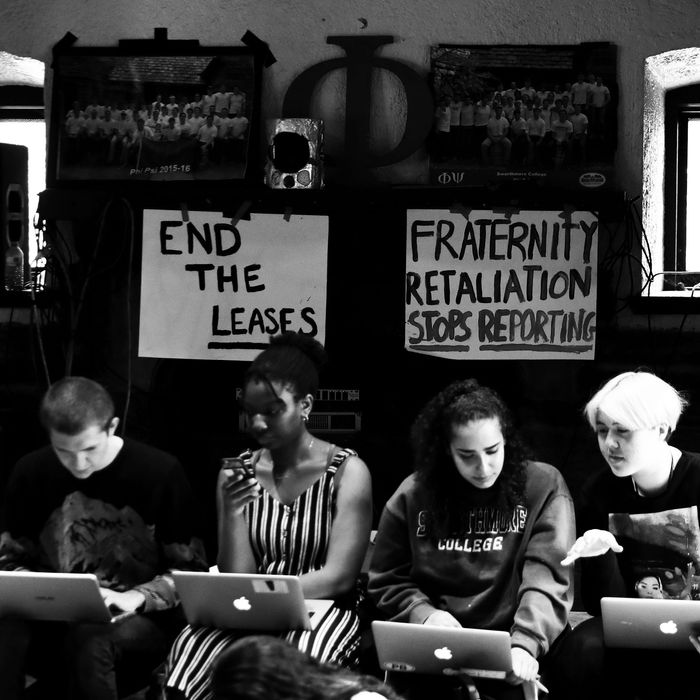 Photo: Uncredited/AP/REX/Shutterstock
On Tuesday night, news broke on social media that Swarthmore's student organizers won their demands to shutter both of the college's remaining fraternities, Delta Upsilon and Phi Psi, after leaked internal documents from Phi Psi revealed a cache of misogynist misery.
After dozens of student protesters from the Coalition to End Fraternity Violence occupied the on-campus Phi Psi house for four days, members of both fraternities made unanimous decisions to dissolve their institutionalized brotherhoods, according to their statements:
And student organizers rejoiced:
Though discontent over fraternity practices at the elite Pennsylvania liberal-arts college had been growing for some time, the breaking point came when two student newspapers, The Phoenix and Voices, published Phi Psi meeting minutes recorded between 2010 and 2016. Those logs detailed such horrors as the existence of a "rape attic" and a "rape tunnel," tips on acquiring date-rape drugs, and the rampant use of homophobic, racist, and sexist language.
Many of the students who organized were already familiar with some of Phi Psi's abuses. Morgin Goldberg, 22, told the New York Times that after she was sexually assaulted by a Phi Psi member as a freshman, she notified a host of school administrations, including the dean of students and president. She said the "rape attic" had been an open secret on campus for years. More than 100 anonymous experiences of mistreatment by fraternity brothers were compiled on a Tumblr started in early April titled "Why Swarthmore's Fraternities Must Go." (Goldberg told the Washington Post she's one of the students who created the Tumblr.)
Phi Psi initially denied that the minutes reflected the fraternity's current practices, saying in a statement, "We wholeheartedly condemn the language of the 2013 and 2014 notes, as they are not representative of who we are today."
The Times reported on Tuesday that among the organizers' demands was that the college end its leases with fraternities and reserve them instead for historically marginalized groups. These demands have yet to be met.
On Wednesday morning Swarthmore's president, Valerie Smith, who announced last week that the school would investigate allegations against fraternity practices, issued a statement saying, "We respect these students' decision to take this action, and we appreciate their strong condemnation of behavior described in the 2013–16 materials that have recently come to light." Smith added that investigations into allegations of sexual misconduct are ongoing.